How Are EdTech Companies Changing Higher Education? + 15 Famous EdTech Companies
As the digital world unfolds, so does the demand for tech companies. With a growing number of students and professionals looking for innovative and cutting-edge software and services, these EdTech companies have the potential to shape the future of education.
The landscape of education is changing. No longer are we confined within the four walls of a lecture hall, with one teacher and a handful of students.
We can now provide educational experiences for our students through new technology like software and hardware, making it possible to learn outside the traditional classroom environment.
This change has affected education through tech companies that offer products that harness some tremendous potential for new learning experiences like online courses or games explicitly designed to educate children on math skills, reading comprehension, and more. Keep reading to find out more about these edtech companies!
What Are Edtech Companies?
EdTech is a term that refers to technology and software that is designed to improve student learning outcomes by enhancing teacher-led learning in classrooms.
Even before COVID-19 made distance learning the only classroom choice for so many of us, the EdTech sector had existed for years. Many K-12 institutions, colleges, and universities already use technology to keep online, and hybrid classes connected and collaborate daily.
The global online education market was estimated in 2019, EdTech companies were valued at 500 million dollars. As of 2022, to reach 404 billion by 2025. After a year of remote Learning and a flexible future that is here to stay, the sector is simply expanding, exceeding all projections and previously expected growth rates.
Benefits Of Edtech Companies
How educational institutions use them, online learning platforms, and software come in various shapes and sizes.
EdTech refers to any educational technology tool, including language learning apps, educational quiz generators, and virtual classroom platforms. EdTech's rapid growth can ascribe in part to the industry's broad scope and the other advantages of using these platforms.
The following are some of the advantages of adopting EdTech platforms:
Audio or visual media must be compatible
To aid with synchronous remote classes.
Self-paced online courses and modules, digital tools, and online textbooks allow students to learn at their own pace.
Online courses for hybrid and small classes allow students to learn at their own pace, ideal for their learning style.
EdTech allows teachers to maintain control over their online classes by serving as a digital repository for all virtual teaching resources. Because it's mobile-friendly, you can learn on any device.
Further, this article will guide you on how these edtech companies face the challenges and the most successful edtech companies.
What Are The Challenges The EDTECH Companies Are Facing?
While the EdTech business is growing at a breakneck pace, organizations must overcome a few obstacles to stay ahead of the pack. Let's take a look at some of the issues that EdTech companies encounter and the techniques they might use to overcome them.
Some of the challenges include:
Lack of experience or expertise: Many tech companies lack the experience or knowledge necessary to operate in the digital world successfully. This can cause various issues, including trouble creating material, managing social media accounts, etc.
Rising tuition rates: The cost of tuition is on the rise, which will impact many EdTech companies. To keep up with rising tuition rates, many companies are looking for ways to reduce their costs or even close the gap.
Lack of innovation: Many EdTech startups cannot keep up with the latest trends in technology or software. This can lead to several problems, such as poor customer service or defective products.
Unsustainable business model: Many tech companies have an untenable business model that is not sustainable over the long term. This can lead to problems such as financial stability or failure.
Online education is not just for adults but also teenagers. The smartphone market in India has welcomed more than 760 million new users, and one out of every three are less than 25 years old! This makes it even more critical for EdTech companies to focus on these challenges, shaping the future of the education industry.
The Future of Education
As the digital world unfolds, so does the demand for EdTech companies. With a growing number of students and professionals looking for innovative and cutting-edge software and services, these companies have the potential to shape the future of education. Here are 15 EdTech companies to watch out for in 2022.
The 15 famous EdTech Companies to Watch Out For 2022!
Edtech is constantly changing, and its future of it remains in flux. Where's the line between teaching kids tech literacy and fomenting addiction when it comes to student-facing techs like gaming?
The following 15 edtech companies are helping shape this industry. They're all tackling questions of pedagogy and business at the same time.
1. Udemy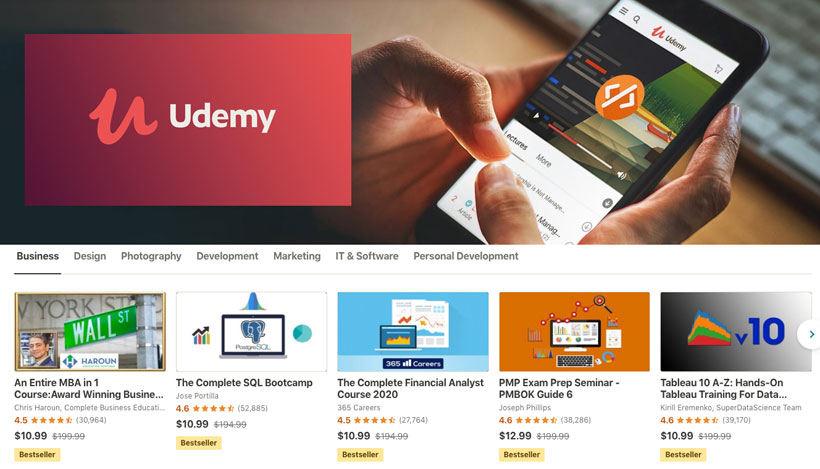 Udemy offers over 155,000 courses in 65 languages. It's an open marketplace which means anyone can create a system on its platform. The platform's exponential growth has been seen since it was first founded in 2010, and there have been 480 million enrollment so far!
Udemy has also focused on attracting corporate trainers to create specific courses for companies' employees as well – they're headquartered in San Francisco with offices located the world over, including Ireland, Turkey, Brazil, and India.
2. Coursera
Coursera offers online courses from top universities, such as Johns Hopkins and Stanford.
Coursera is valued at $2 billion according to Pitchbook; total investment so far has been more than $464 million since its inception in 2012.
Projects allow students to gain experience in a subject such as web apps or animations. The company's most prominent investors include Alphabet Inc., International Business Machines Corporation, and Amazon.com, Inc., which have partnered with the organization to provide digital certificates that can be added to resumes.
3. Brainpop
BrainPOP brings a more playful approach to the classroom by using interactive games, videos, and activities. Students can explore different pathways through subjects like math and music while improving their social skills. As a result of this playfulness, learning becomes much more compelling for students with BrainPOP's tools!
4. Udacity
Udacity's online courses offer you a pathway for job-seekers to gain skills that will prepare them for the career of their future. The platform provides programs and lectures on subjects like artificial intelligence, cloud computing, product management, and data science, which are essential in-demand skills people need today.
5. GoGuardian
GoGuardian provides a suite of tools to ensure that students are protected from harmful and distracting content when working within the digital space. The company's primary focus is supporting mental health through its suite of products, including DNS network filtering, classroom management tools, asset management tools for teachers, and more-all leading to a more productive learning environment.
6. Masterclass
A masterClass is an online platform that allows you to take classes and learn from world-leading experts, including Stephen Curry, Gordon Ramsey, Annie Leibovitz.
Teaching topics vary from cooking through writing to music and filmmaking. Users can access the unique insights with these accomplished individuals' advice only by enrolling in Masterclass.
7. Skillsoft
Skillsoft is the leading global company that incorporates learning and education. We have over 500,000 multi-modal courses, videos, authoritative content chapters, and micro-learning modules accessed over 130 million times every month. Skillsoft is available in 29 languages for students from 160 countries across the globe.
8. 360Training
360training is a regulatory-approved online training and certification leader across various industries and professions. Its focus on regulated activity helps ensure customers' health, safety, and financial security, including you!
Their offices are located in Austin, Texas, Karachi, Pakistan, Manila, and the Philippines. With more than 11 million users worldwide out there to help them qualify for jobs or manage their careers by fulfilling all compliance requirements with our integrated strategy of content rigor technology service, it's no wonder we're the best around.
9. DonorsChoose
This crowd-funding platform, similar to GoFundMe, has a laser-sharp focus: raising funds for public school classrooms. Founded in 2000 by a high school history teacher from the Bronx, this site allows teachers nationwide to post requests for all kinds of supplies–from robotics kits to books and printer ink. Donors have given more than 800 million dollars towards underfunded classrooms through DonorsChoose.
10. Duolingo
Duolingo is a language-learning website and runs on the free premium model, which means users can access it without any charges. It has over 300 million registered users worldwide as of March 2021.
Duolingo's content mainly consists of podcasts, quizzes, and interactive stories that experts create in the field, such as language learning scientists, AI engineers, and machine learning engineers. As of 2020, it had 42 million monthly active users with 55.6M visitors globally for about four years.
11. Stride
Stride, Inc. is a for-profit EdTech company that provides an alternative to traditional education available through public schools. Students can enroll in the company's online programs from kindergarten to high school (K-12).
In 2020, over 165 thousand K-12 students were enrolled under the name of Stride. As part of this COVID -19 pandemic, there has been a surge in these enrollment options due to people looking towards remote learning options during this period. According to the market brief, the organization expects total revenue of 1 billion and 250 million dollars, which are coming from career learning programs by 2021, according to the market brief.
12. Degreed
Degreed is an online platform that provides skill development, tracking, and validation. It tracks all types of learning, including degrees, conferences attended or courses taken, experience at work, and the magazine subscriptions followed by a student.
The highlights are the skills learned on Degreed's library platforms and those developed through individual learning efforts. This system also provides services for individuals/organizations-individual level assessment & organizational level deployment.
13. PresenceLearning
PresenceLearning provides live, online speech therapy and occupational therapy to students of K-12. The organization was founded in 2009 and is located in San Francisco (United States). The company has received USD 414M in funding from NewSchools Venture Fund, Catalyst Investors, Bain Capital Double Impact, and 13 other investors.
The latest video conferencing technology is available here, engaging games and evidence-based activities to help students improve their skills while saving time for educators in coordination with parents or districts.
14. Blackboard
Blackboard is a natural starting point for talking about education companies in the DMV. The company's learning management software has enabled DC, and learning, to be shown as essential factors for the city's technology sector.
Through various acquisitions over time- Remote-Learner UK, Sequoia Retail Systems, and Moodlerooms-Blackboard merged with Anthology last week; big tech company right there!
15. Outschool
Outschool connects kids with a convenient platform of classes to help them learn more about what they're interested in. With courses for students as young as three years old up to 18, Outschool hosts a diverse range of classes that allow children to choose which material interests them most- no matter their age!
Students can also get personalized one-on-one or small group sessions and have the time and attention needed from an instructor.
These 15 edtech companies will help you gain more knowledge in education technology!
Conclusion
We have compiled a list of 15 EdTech companies that you should watch in 2022.
The education industry is transforming, and EdTech companies are leading the way.
As the world becomes more digital and access to information becomes more democratized, we will see a shift in Learning and teaching. EdTech companies are shaping the future of higher education, and it is up to us to learn from their success and adopt what they teach.
You can also read- A Comprehensive Comparison of the Top Business Intelligence Tools.
Asana vs Monday: Which Is Better For Your Team In 2022?
Despite the turbulent periods of quick progression, one factor stays constant: people adore project management software. They cling ferociously to their favorite program. It's time to come together and discuss two of the most outstanding project management solutions – Asana vs Monday in a non-partisan manner.
While both project management services are straightforward, easy, and packed with valuable features, one may seem to offer a lot more. This article talks about Asana vs Monday in great detail, taking into account key factors to help you make an educated decision.
What is Asana?
Asana is a Task Control Software that helps organize your tasks, keep accurate records, and effectively manage all initiatives using one program. Instead of sending back and forth emails, this program facilitates establishing a consolidated dashboard for notification communication.
Using this software, you can give particular assignments to the most specific, unique group of people based solely on their abilities, resulting in sincere mission management.
You can monitor your project's development using calendars, lists, Gantt charts, and Kanban boards. A Gantt chart is a chart with two axes where the horizontal one shows a project's timeline, and the vertical one shows all tasks that look like bars.
In the Kanban board, a project looks like a board where tasks look like cards in columns. It means that one card is one task. Projects can consist of as many columns as required. Each column corresponds to a stage of your plan.
Kanban boards are better for repetitive work (work with similar steps), while Gantt charts are better for combining different types of work. The image shows a Kanban board on the right and a Gantt chart on the left.
Asana is extensively utilized worldwide as a project management tool due to its simplicity.
What is monday.com?
Monday is an all-inclusive online management software that promotes collaboration through a visualization tool that makes team members aware of their commitments and time restrictions.
In addition, monday.com is a space where teams can track tasks, collaborate on every project step, view progress through statistical data, schedule events, and store everything on one platform. Monday also provides integrations, making it an absolute must for teams collaborating in a dynamic environment. 
This simple software offers a consumer-friendly interface for managing ad campaigns, fixing errors, solving issues, attracting customers, and producing motion pictures.
Asana vs Monday: Differences in Basic and Advanced Features
Asana offers various views, including calendars, Gantt charts, boards, etc. Aside from basic task handling, Asana includes many utilities, including team collaboration and management.
Monday supports a variety of built-in Kanban boards, including workload, list, Calendar, and Timeline. Monday has many features, but it lacks the agility required to implement Agile Frameworks other than simple Kanban.
Asana vs Monday can also manage team projects, tasks, missions, and to-do lists and assign team members to specific jobs (or projects). Both Monday and Asana sites will collapse features to match your screen size when using a smaller screen without leaving out essential details.
Here is an image showing the timeline feature in Asana:
Monday and Asana enable you to see the status of your projects via a timeline. The timeline function displays your to-do list directly above your dashboard on Monday.com, but you may also collapse Timeline from the screen.
Here's how a timeline looks on monday.com:
A timeline indicates the tasks as spanner bars positioned across a color-coded calendar, indicating the days you must finish the work. You can drag and drop charges to change the project's schedule or due dates and expand and constrict the Timeline bars to cover more or fewer days.
You must manually activate notifications to inform your team about changes. Monday does not start notifications automatically like Asana.
Asana vs Monday: Task Management
Asana permits you to create tasks, assign them to team members, establish deadlines, and link them to other tasks. Tasks expand to reveal more information where you can add @ mentions, attach documents, and comment.
After signing in, Asana displays tasks due soon in the Home section, and you can see a comprehensive list of all tasks you've been assigned by visiting My Tasks.
You can see Pulses as cards in Asana, but they don't always function that way. Monday.com allows you to create Pulses, similar to Asana tasks that you can name, assign them to a team member, set their status, link them to other Pulses, and view a progress bar showing how long it will take.
Asana vs Monday: Workflow Management
Asana workflows are organized into "views." 'Views' show you how your projects are progressing using lists, Kanban boards, Gantt charts, and calendars, to name a few.
Because you can't skip any steps when working on a big project, you can rely on task dependencies to keep you on the straight and narrow. In addition, you can move tasks around simply by dragging them.
Monday.com works the same way, except it displays various visualizations for Pulses without forcing you to switch between web pages or browser windows frequently.
You can see the status of your Pulses in a Monday.com user interface (UI) list view using a small progress bar at the top, and display them in the section above the fold in the visualization of your choice. This allows project managers to keep an eye on everything without being overwhelmed.
The Pulses statuses can be changed using a drop-down menu in the list part of Monday.com, but you can also resize and expand them using their timelines (Gantt bars) or by dragging and dropping cards through the Kanban boards. Projects can also be visualized as maps and pie charts.
Asana vs Monday: Portfolio Management
Portfolio Management encompasses the overall management of all the company's ongoing projects in one location. Asana and Monday are two of the few PM tools to offer Business Portfolio Management. Here's how both tools accomplish it:
Asana provides a portfolio feature replicating a standard project management tool for projects rather than individual tasks. Using this feature, you can pull back from your day-to-day workspace to see the larger picture and ensure that you don't lose track of your ongoing projects.
Monday.com's similar feature, Groups, allows you to add a new Pulse to a Group anytime you create a Pulse on Monday. Because Pulses are open-ended and undefined, you can use them in whatever way you want. Groups are neither tasks nor projects. When you create a Group in Asana, you create a project with a Pulse for each project.
Because Asana's portfolio feature provides more detail and information, managing your portfolio in Asana is more straightforward than in other project management tools.
Asana vs Monday: Signing Up and Tool Setup
It's simple to begin with either Asana or monday.com. You need to enter your work email, hit enter, and you're in. Neither service requires you to enter your credit card details to obtain their free trials. You can freely test monday.com for 14 days or Asana for ten days. Before using your new dashboard, you must verify your email address.
Asana has a "Tour" tab you may click on or tap to discover what you should do next, which is convenient. If you want a quick answer, you may ask an Asana representative by using the chat popup on the bottom-right corner of your screen. You may also ask for assistance by browsing through Monday.com's YouTube channel if you are stuck and need some help finding out what to do next.
Asana vs Monday: Automation
Asana can save your team time by automating repetitive tasks, freeing them to focus on more important matters. You can use Monday.com's Automation to trigger an action (such as sending a notification) based on an event inside the platform (such as changing a status). Alternatively, you can use rules to automate routine tasks.
Asana vs Monday: Ease of Use
Asana strives to make its project management software accessible to as many people as possible, and it shows. Asana sticks to a more conventional design with its user interface, which offers a single left-side menu listing all of the application's key destinations, such as the home dashboard, messaging inbox, and task lists. It would be difficult to get lost while working with Asana.
Asana's minimal functionality is one of the reasons it is so simple to use. It does not offer financial or reporting features and is designed as a collaboration tool rather than a complete project management solution.
Instead of using the standard approach of listing tasks and checking off steps (like most project management systems), monday.com employs an equally straightforward approach to listing every one of its functions and tasks.
Everything is publicly available and easy to find, resulting in an unbeatable user experience. Setting up everything doesn't require special plugins, add-ons, or integrations. Reporting and finances are included among monday.com's most famous collaboration software offerings. This makes monday.com a clear winner compared to most of its rivals.
Asana vs Monday: Customer Service and Support
There are helpful video tutorials about Asana and Monday.com's YouTube channels on customer service and support. You can also find articles, guides, documentation, and phone numbers on their channels. Both vendors are quick, responsive, and convey that they know what they are doing, which means that the customer support personnel for both platforms are pretty competent.
Asana's Project Management tool doesn't provide an email or phone number right away, but you can get round-the-clock live walkthroughs or on-demand tutorials to get a walkthrough of the tool. Monday.com offers free webinars that you can attend to learn more about their product. You can also get live assistance to help you solve issues whenever you're stuck.
Asana vs Monday: Pricing
Asana and Monday.com offer pricing models that vary according to the number of user licenses required. Asana is a little more costly than Monday, but both companies offer a free plan.
What Asana offers
You can get Asana for free with up to 15 members. Aside from the free version, Asana provides plenty of functionality in project management tools. It offers the following plans:
Basic: Asana's basic plan is free to individuals or small teams of less than 15 people and includes unlimited storage, mobile app accessibility, and unlimited projects.
Premium: Asana's premium plan costs $10.99 per user per month, allows for form and dashboard creation, and invites an unlimited number of free guests.
Business: Asana's $24.99 per user per month business plan includes advanced Salesforce and Adobe integrations and customizable forms.
Enterprise: Asana's Enterprise plan includes user provisioning and de-provisioning (SCIM) and priority support, aside from the fact that the two plans are nearly identical. Pricing for Asana's Enterprise plan is not on their website.
What Monday offers
Rather than having a few pricing tiers and pricing the software based on users, monday.com takes a slightly different approach to pricing.
You can track your work using monday.com's plan, including the Basic plan's features. This plan serves individuals who want to follow their work well, with two seats and a 200-item limit. You may sign up for the 14-day free trial without a credit card to try it out.
Apart from the free plan, Monday offers the following plans:
Basic: The $8 per user per month plan is for solopreneurs and smaller businesses. It includes creating and distributing custom forms, dashboards (one dashboard per dashboard), unlimited free users, and iOS and Android applications.
Standard: The Standard plan is for small-medium teams. It includes every feature of the basic plan and costs $10 per user per month. In addition, it has Timeline and calendar views, Advanced search functionality, and Automations and Integrations.
Pro plan: It costs $16 per user per month and covers all the basic and standard plan features. In addition, it includes Private boards, Chart views, Time tracking, etc.
Enterprise: It is available to large organizations seeking enterprise-level project management software and security. This plan includes every aspect of the other plan, plus enterprise-level security and governance, 250,000 automates per month, in-depth analytics and reporting, multi-level permissions, customized onboarding procedures, priority help, and up to 50 boards on each dashboard.
Asana and Monday have enterprise pricing levels with premium support, security, and governance, among other things. Contact their sales teams for more information.
Asana vs Monday: Data Security and Privacy
All enterprise-based solution providers should be concerned about digital security. However, Asana and Monday have assured their clients through well-known security compliance.
Asana adheres to SOC 2 and ISO/IEC 27001:2013 standards. Enterprises are not permitted to operate the software on their servers; it is cloud-based and has firewalls to safeguard clients from security issues.
Monday.com uses Amazon Web Services (AWS) to maintain client information. In addition, the Google Cloud Platform security procedures are utilized. Furthermore, the company has adhered to ISO 27001 and ISO 27018 standards.
We can see that both providers are seriously protecting their customers' data.
Asana vs Monday: Integrations
Asana has more integrations than other project management systems, and that's a fact. Asana provides over 100 integrations, from Dropbox to Slack, GitHub, and Mailchimp. Zapier, as well as Asana's API, are also integrated.
On the other hand, 40 integrations are provided in addition to its API by Monday.com. These integrations include Slack, Jira, Shopify, Zapier, and Mailchimp. These may be all you require for smaller companies, but you may need to set up data sharing over the API for larger corporations.
Asana vs Monday: Templates
Asana has over 30 task templates for various industries and usage scenarios. You may also save and retrieve custom templates in the templates folder. Monday.com, on the other hand, does not allow this. You will, therefore, have to create tasks from scratch every time, even if they are recurrent.
Asana vs Monday: Reporting and Analytics
With Asana, you can monitor job progress, including calendars, Gantt charts, lists, and Kanban boards. Asana provides simple, eye-catching charts with limited customization options similar to its task management tool presentation. New charts are simple to create and configure, but sophisticated users may be dissatisfied.
With Monday, you can check job progress in one place, eliminating the need to switch between detailed project status screens and broad-sweeping ones. You may move around this interface to see Kanban boards, Gantt charts, timelines, and other projects.
Using other data visualization tools, you'll feel more at home on monday.com, where you can utilize powerful filters, groupings, and chart types.
Asana vs Monday: Which tool is better for you in 2022?
Monday.com and Asana are suitable for non-technical departments, particularly Sales, Marketing, and similar ones. If you want to design an enterprise communication and collaboration tool with strong job handling capabilities, Asana is your best option.
Monday.com is the one for you if you need a user-friendly Project Management Tool that is fun to use, visually pleasing, and has decent job handling capabilities; Monday.com is the one for you.
The amount of money and time you must invest in these Project Management tools is significant. Moreover, if you're a software company, you must put Agile implementation aside if you want to use these two tools.
Wrapping Up
In terms of integrations and customization, Asana outperforms Monday.com. However, Monday.com has lower costs and interfaces in comparison to Asana. Even though both project management software is created for small and medium enterprises, their structures are nearly identical.
Choosing the proper project management program is mainly dependent on your personal preferences and company demands. Hopefully, this evaluation has assisted you in selecting the right solution for your venture.
Detailed Review of Jasper AI in 2022 (Jarvis AI)
Jasper AI (previously known as Jarvis AI) is a strong, cutting-edge GPT-3 program for creating content that can be used in various ways and at scale. It's a new solid and revolutionary GPT-3 software that can write SEO-focused blog articles, listicles, school papers, YouTube video scripts, and novels.
While it isn't the cheapest AI writer on the market, its competitive features, clean user interface, and high-quality output potential keep it an excellent bargain for anyone who needs to perform a lot of writing and copywriting without engaging expensive outside help.
What exactly is Jasper AI?
According to Linkedin, Jasper AI (Jarvis AI) was started in 2020 and currently employs 8 people, most of whom are based in Austin, Texas.
Traction is looking promising for a company that has only been around for more than a year. The team stealthily raised a $6 million initial fund from various investors, including Foundation Capital and Hack. VC.
How to apply Jasper AI (Jarvis AI)?
It is pretty simple to get started with Jasper AI (Jarvis AI). The platform is also capable of scaling for organizations. Not only that, but their pricing is reasonable at $29 per month or $24 per month when paid annually.
They also feature a plethora of well-produced tutorials that will walk you through the process of writing each form of copy that you require.
After using Jasper to create copy and defeat writer's block, these features helped me the most.
Here's an inside peek at the Jasper AI (Jarvis AI) tool and how to use some of its features.
Benefits of Jasper AI
In Austin, Texas, Jasper (Jarvis AI) was founded by Dave Rogenmoser, who quickly brought on CTO John Morgan to help build the software.
Jasper was constructed by Rogenmoser and Morgan in collaboration with venture capital and a profound grasp of software development. Its mission is to assist all of its users to create compelling and engaging copy that converts prospects to buyers.
Since assisting over 25,000 businesses in increasing conversions, it's reasonable to say they've met this problematic aim.
Jasper isn't a gadget that will take the role of copywriters and content creators. Instead, it collaborates with writers to get the most outstanding results possible.
The AIDA template maker
Blog introduction maker
The Jarvis Facebook page
AIDA is one of the most well-known and efficient copywriting formulae. It is an acronym that stands for Attention, Interest, Desire, and Action. Fortunately, when you join up with Jasper (Jarvis AI), you will gain access to an AI that will develop a text-based on this template, and the message will sound as if a professional copywriter wrote it.
Provide your company name, product description, and preferred tone of voice, and you're ready to go.
The blog introduction generator was another feature that piqued my interest. Again, you need to provide your company name, product description, and tone of voice, and Jasper will develop an engaging opening for your article.
It employs the PAS (Problem, Agitate, Solution) formula to create appealing content. It raises your readers' awareness of the problem, educates them on the repercussions of ignoring it, and then presents your content as the answer. Using this hook can improve your SEO score by increasing reading time.
The Facebook group was the third element that drew my attention. With over 30,000 specialists available to assist you on your writing journey, you can be confident that they will answer any queries you may have.
The following persons can benefit from utilizing Jasper (Jarvis AI):
Copywriters and content providers
Digital marketers
Video producers
Spelling and Grammar
Much work has been put into enhancing machine learning algorithms to generate more natural-looking content. It's not perfect now, but it's come a long way in recent years.
Grammarly is excellent for detecting grammatical errors in your writing and flagging them for additional review.
I wrote roughly 300 words to run through Grammarly to be consistent with some of our other AI tests. The content received an 87, which is average compared to our other tests.
Grammarly isn't the best judge of content quality, but if you're familiar with the tool, you'll know that this generally indicates that the text is acceptable.
It might only take a few tweaks to put it in your voice or adapt it to your chosen writing style.
Plagiarism
Grammarly discovered 20 percent plagiarism in the AI copy written by Jasper AI (Jarvis AI).
This appears to be a bit excessive, especially if you're used to evaluating longer blog entries for plagiarism. I've found that these usually have a 1% or 2% plagiarism rate (which is generally from totally unrelated content).
Accuracy
Accuracy and integrity can be significant difficulties with AI-generated text.
For example, if you write a blog about survival knives but the content is about kitchen knives, the reader will be perplexed. One of the most common concerns I hear about AI-generated material is its lack of accuracy.
Review of Jasper AI (Jarvis AI)
Overall, my early impressions and experience with Jasper AI (Jarvis AI) indicate that it has the potential to be a valuable and helpful tool for the right person.
As previously said, the technology is simple to use yet can expand for companies.
If I were creating material full-time, this tool could help me put pen to paper and get started. However, because accuracy isn't all that excellent, it doesn't eliminate the necessity for any research to generate an accurate blog post.
Specific issues, particularly those relating to people's and animals' health and well-being, will require verification of integrity and correctness. However, for the most part, everything is OK.
Overall, I like where Jasper is going. It is not "automated," as with any AI tool, but it can significantly speed up content writers' everyday responsibilities.
I wouldn't rule it out if used with content optimization tools like Grammarly. To put it to the test, try the Starter Package.
A program that is that accurate and straightforward to use must be expensive; nonetheless, Jasper is less costly than most AI copywriting tools. It also has a 7-day money-back guarantee, giving you peace of mind to cancel your subscription and get your money back if you don't like the program.
When you join up for Jasper, you'll have three options:
1. The Starter Plan is $29 per month.
2. The Pro Plan is $109 per month.
3. The monthly fee for Boss Mode is $119.
Although Pro Plan and Boss Mode are pretty expensive, the Starter Plan should be sufficient for most writers since it offers features you'll find in the more expensive plans.
Jasper (Jarvis AI) can write 20,000 words a month for you with the Starter Plan. It is also compatible with over 25 languages, including Spanish, French, and Japanese.
The Starter Plan is a viable solution if you primarily produce short-form material such as social media posts, headlines, email subject lines, and blog openers.
When you join up for the Pro Plan, you have the option of requesting an infinite number of words. If you're producing more significant pieces of material, such as blog articles, video scripts, or books, this is a preferable alternative.
The final strategy is Boss Mode. This is primarily for business owners who hire customer service, marketing, and salespeople. In Boss Mode, you can use Jasper Command to tell the AI precisely what you need.
Conclusion
When compared to other comparable solutions, Jasper AI (Jarvis AI) truly stands out. If you're seeking a solution to automate your content demands, overcome writer's block, and use a powerful copywriting tool. In that case, Jasper AI is a terrific alternative for novice and expert content marketers.
Jasper AI is light years ahead of everything else on the market. The ease of use, mixed with the almost limitless possibility for content personalization, makes it one of my top tools to suggest to anyone who wants to create long-form content at scale while making more effort than they are.
9 Best Audiobook Apps Of 2022
With the best audiobooks apps on your iPhone or Android, you'll never be at a loss for a good book. These apps let you listen to everything from best-sellers to old classics no matter where you are – all that's needed is a mobile device and some headphones.
Audiobook apps come in as many forms as books themselves. Our list of the best audiobooks apps includes slick, full-featured players that also integrate online marketplaces to more humble affairs that still bring you classics of world literature in audiobook form.
Audible
Source – link
Audible is the best audiobooks app with over 470,000 titles in its library. Audible has been especially helpful recently since Amazon owns it. The player offers a solid playback feature such as chapter navigation, bookmarks, and variable playback speed for multitasking support when downloading or listening to an audiobook in background mode.
Audible integrates with Amazon and offers listeners several benefits. If you sign up at Audible.com, Prime members get two free credits when starting an Audible Premium Plus trial. The Amazon Whispersync feature allows users to switch between audiobook and text near-seamlessly. And if you have a voice assistant like Alexa, she can pull up your audiobooks from Audible for playback through an Echo or other device.
Audiobooks.com
Source – link
The cloud-based Audiobooks.com platform is also a solid option among the best audiobooks apps for Android and iOS listeners. It allows subscribers to choose from a library of more than 200,000 audiobooks from every genre they can stream or download offline listening.
The AudioBooks app includes variable playback speed, automatic bookmarking, and a sleep timer. The app also syncs across devices, so you can transition from one device to the other without losing your place in an audiobook or podcast.
Realm
Source – link
Realm, formerly known as Serial Box, has a new name but the same appeal for anyone who likes to listen to good stories. Its shorter episodes make it easy for listeners to enjoy listening on their commute or break time. It is one of the best audiobooks app out there.
There is a range of genres on Realm, such as drama and fantasy. Free membership allows you to listen to shows while paying for an Unlimited Member removes advertisements from the app and unlocks exclusive deals. You can enjoy all Realm offers for $2.49 per month over 12 months (or just $1 a month), you can enjoy all Realm offers.
They have a robust library of offerings such as "The Witch Who Came In From The Cold," "Bookburners," and "Tremontaine," with a highly configurable reader and audiobook player mode. This is interesting for readers, especially considering the Android version of the app just came out.
Google Play Books
Source – link
Purchasing an audiobook on Google Play Books offers features like the ability to jump from one device to another and pick up where you left off. With Audiobook controls, you can skip ahead or scroll along the timeline, jump chapters, and configure playback speed and a snooze timer.
Unlike some of the other best audiobooks apps on our list, Google Play Books doesn't operate on a monthly subscription; instead, it lets users preview audiobooks and then buys what they want over the Google Play Books marketplace.
Kobo Books
Source – link
Kobo, which may not be as well-known in the US market for ebooks and audiobooks compared to Amazon, has a rich library of titles. Its apps include all the basics: a scrubber bar with time skip buttons that allow you to jump back or forward in your reading timeline by minutes. You can also configure playback speed and snooze timer options on their audiobook player.
The Kobo app has cross-platform syncing options, a customizable ebook reader, and an audiobook player. New users can sign up for a $5 discount on their first purchase of an eBook.
Bookmobile
Source – link
Bookmobile is a well-regarded iOS Audiobook player for those looking to play DRM-free audiobooks. Bookmobile supports DRM-locked content from iTunes and Audible and DRM-free content, ripped from CDs or downloaded, including M4B and MP3 audiobooks. The app features intelligent controls designed to keep you from quickly losing your place with its drive mode, sleep mode, and support for background playback capabilities.
The trial lasts for 60 days and allows you to import three audiobooks. After that, it only costs $.399 to unlock the whole library of features. Extra features include custom bookmarking that automatically remembers where you last stopped, playback speed controls, and AirPlay support.
Smart AudioBook Player
Source – link
For Android, Smart AudioBook Player is a popular choice for audiobooks without DRM. It comes with variable playback speed, bookmarks, and an audio equalizer. You can also create playlists. The app includes a 30-day free trial before asking users for a $1.99 fee.
Listen Audiobook Player
Source – link
One of the best free audiobook apps for Android is Listen Audiobook Player, formerly known as Akimbo. Out of all other things in life, it doesn't have ads or IAPs- at least not anymore. It's a highly customizable player with variable playback speed, embedded chapter support, and bookmarks that also have lock screen controls and widgets.
With user syncing, you can synchronize your current position and bookmarks across multiple devices. You can also configure skip times, colors on the UI, and button shortcuts for headsets.
Voice Audiobook Player
Source – link
You can always go for free and open-source options for apps like audiobook players. Voice Audiobook Player has a clean Material design-based interface that delivers useful playback features without charging you anything.
The library management is like a folder-based affair, and playback options include variable playback speed and sleep timer. While it's not as complex or advanced as other audiobook apps on the list of best audio players, you can't argue its price point.
Nook Audiobooks
Source – link
Barnes & Noble offers the Nook Audiobooks app with more than 50,000 titles across various genres. Rather than using a subscription model like Audible or Audiobooks.com, Nook features an online store where you can buy individual books and then download and listen to them through the app.
Conclusion
The National Endowment for the Arts survey found that audiobook listening increases general literacy. Public libraries are an essential source of audiobooks, serving about 40% of all consumption in this format.
Libraries offer downloadable audiobooks as well as CDs. It's worth mentioning that around 5,000 public libraries nationwide provide free downloads to their patrons. Also, reading at risk has shown a rise in sales, with more than 1 million copies sold since 2004.