As the digital world unfolds, so does the demand for tech companies. With a growing number of students and professionals looking for innovative and cutting-edge software and services, these EdTech companies have the potential to shape the future of education.
The landscape of education is changing. No longer are we confined within the four walls of a lecture hall, with one teacher and a handful of students.
We can now provide educational experiences for our students through new technology like software and hardware, making it possible to learn outside the traditional classroom environment.
This change has affected education through tech companies that offer products that harness some tremendous potential for new learning experiences like online courses or games explicitly designed to educate children on math skills, reading comprehension, and more. Keep reading to find out more about these edtech companies!
What Are Edtech Companies?
EdTech is a term that refers to technology and software that is designed to improve student learning outcomes by enhancing teacher-led learning in classrooms.
Even before COVID-19 made distance learning the only classroom choice for so many of us, the EdTech sector had existed for years. Many K-12 institutions, colleges, and universities already use technology to keep online, and hybrid classes connected and collaborate daily.
The global online education market was estimated in 2019, EdTech companies were valued at 500 million dollars. As of 2022, to reach 404 billion by 2025. After a year of remote Learning and a flexible future that is here to stay, the sector is simply expanding, exceeding all projections and previously expected growth rates.
Benefits Of Edtech Companies
How educational institutions use them, online learning platforms, and software come in various shapes and sizes.
EdTech refers to any educational technology tool, including language learning apps, educational quiz generators, and virtual classroom platforms. EdTech's rapid growth can ascribe in part to the industry's broad scope and the other advantages of using these platforms.
The following are some of the advantages of adopting EdTech platforms:
Audio or visual media must be compatible
To aid with synchronous remote classes.
Self-paced online courses and modules, digital tools, and online textbooks allow students to learn at their own pace.
Online courses for hybrid and small classes allow students to learn at their own pace, ideal for their learning style.
EdTech allows teachers to maintain control over their online classes by serving as a digital repository for all virtual teaching resources. Because it's mobile-friendly, you can learn on any device.
Further, this article will guide you on how these edtech companies face the challenges and the most successful edtech companies.
What Are The Challenges The EDTECH Companies Are Facing?
While the EdTech business is growing at a breakneck pace, organizations must overcome a few obstacles to stay ahead of the pack. Let's take a look at some of the issues that EdTech companies encounter and the techniques they might use to overcome them.
Some of the challenges include:
Lack of experience or expertise: Many tech companies lack the experience or knowledge necessary to operate in the digital world successfully. This can cause various issues, including trouble creating material, managing social media accounts, etc.
Rising tuition rates: The cost of tuition is on the rise, which will impact many EdTech companies. To keep up with rising tuition rates, many companies are looking for ways to reduce their costs or even close the gap.
Lack of innovation: Many EdTech startups cannot keep up with the latest trends in technology or software. This can lead to several problems, such as poor customer service or defective products.
Unsustainable business model: Many tech companies have an untenable business model that is not sustainable over the long term. This can lead to problems such as financial stability or failure.
Online education is not just for adults but also teenagers. The smartphone market in India has welcomed more than 760 million new users, and one out of every three are less than 25 years old! This makes it even more critical for EdTech companies to focus on these challenges, shaping the future of the education industry.
The Future of Education
As the digital world unfolds, so does the demand for EdTech companies. With a growing number of students and professionals looking for innovative and cutting-edge software and services, these companies have the potential to shape the future of education. Here are 15 EdTech companies to watch out for in 2022.
The 15 famous EdTech Companies to Watch Out For 2022!
Edtech is constantly changing, and its future of it remains in flux. Where's the line between teaching kids tech literacy and fomenting addiction when it comes to student-facing techs like gaming?
The following 15 edtech companies are helping shape this industry. They're all tackling questions of pedagogy and business at the same time.
1. Udemy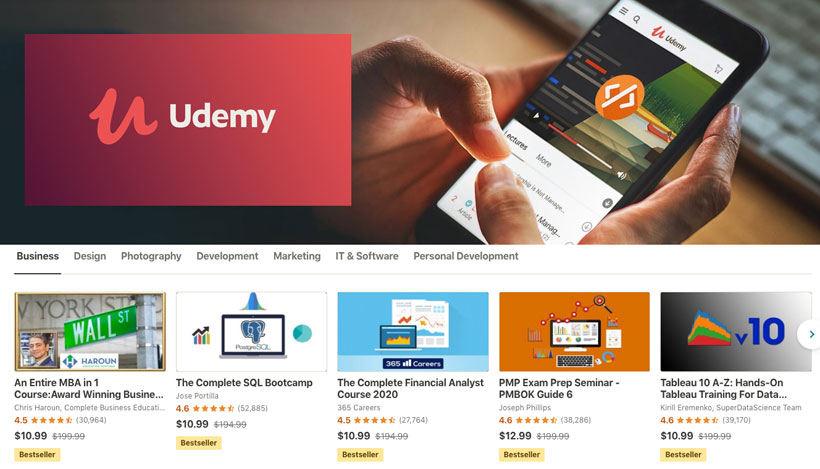 Udemy offers over 155,000 courses in 65 languages. It's an open marketplace which means anyone can create a system on its platform. The platform's exponential growth has been seen since it was first founded in 2010, and there have been 480 million enrollment so far!
Udemy has also focused on attracting corporate trainers to create specific courses for companies' employees as well – they're headquartered in San Francisco with offices located the world over, including Ireland, Turkey, Brazil, and India.
2. Coursera
Coursera offers online courses from top universities, such as Johns Hopkins and Stanford.
Coursera is valued at $2 billion according to Pitchbook; total investment so far has been more than $464 million since its inception in 2012.
Projects allow students to gain experience in a subject such as web apps or animations. The company's most prominent investors include Alphabet Inc., International Business Machines Corporation, and Amazon.com, Inc., which have partnered with the organization to provide digital certificates that can be added to resumes.
3. Brainpop
BrainPOP brings a more playful approach to the classroom by using interactive games, videos, and activities. Students can explore different pathways through subjects like math and music while improving their social skills. As a result of this playfulness, learning becomes much more compelling for students with BrainPOP's tools!
4. Udacity
Udacity's online courses offer you a pathway for job-seekers to gain skills that will prepare them for the career of their future. The platform provides programs and lectures on subjects like artificial intelligence, cloud computing, product management, and data science, which are essential in-demand skills people need today.
5. GoGuardian
GoGuardian provides a suite of tools to ensure that students are protected from harmful and distracting content when working within the digital space. The company's primary focus is supporting mental health through its suite of products, including DNS network filtering, classroom management tools, asset management tools for teachers, and more-all leading to a more productive learning environment.
6. Masterclass
A masterClass is an online platform that allows you to take classes and learn from world-leading experts, including Stephen Curry, Gordon Ramsey, Annie Leibovitz.
Teaching topics vary from cooking through writing to music and filmmaking. Users can access the unique insights with these accomplished individuals' advice only by enrolling in Masterclass.
7. Skillsoft
Skillsoft is the leading global company that incorporates learning and education. We have over 500,000 multi-modal courses, videos, authoritative content chapters, and micro-learning modules accessed over 130 million times every month. Skillsoft is available in 29 languages for students from 160 countries across the globe.
8. 360Training
360training is a regulatory-approved online training and certification leader across various industries and professions. Its focus on regulated activity helps ensure customers' health, safety, and financial security, including you!
Their offices are located in Austin, Texas, Karachi, Pakistan, Manila, and the Philippines. With more than 11 million users worldwide out there to help them qualify for jobs or manage their careers by fulfilling all compliance requirements with our integrated strategy of content rigor technology service, it's no wonder we're the best around.
9. DonorsChoose
This crowd-funding platform, similar to GoFundMe, has a laser-sharp focus: raising funds for public school classrooms. Founded in 2000 by a high school history teacher from the Bronx, this site allows teachers nationwide to post requests for all kinds of supplies–from robotics kits to books and printer ink. Donors have given more than 800 million dollars towards underfunded classrooms through DonorsChoose.
10. Duolingo
Duolingo is a language-learning website and runs on the free premium model, which means users can access it without any charges. It has over 300 million registered users worldwide as of March 2021.
Duolingo's content mainly consists of podcasts, quizzes, and interactive stories that experts create in the field, such as language learning scientists, AI engineers, and machine learning engineers. As of 2020, it had 42 million monthly active users with 55.6M visitors globally for about four years.
11. Stride
Stride, Inc. is a for-profit EdTech company that provides an alternative to traditional education available through public schools. Students can enroll in the company's online programs from kindergarten to high school (K-12).
In 2020, over 165 thousand K-12 students were enrolled under the name of Stride. As part of this COVID -19 pandemic, there has been a surge in these enrollment options due to people looking towards remote learning options during this period. According to the market brief, the organization expects total revenue of 1 billion and 250 million dollars, which are coming from career learning programs by 2021, according to the market brief.
12. Degreed
Degreed is an online platform that provides skill development, tracking, and validation. It tracks all types of learning, including degrees, conferences attended or courses taken, experience at work, and the magazine subscriptions followed by a student.
The highlights are the skills learned on Degreed's library platforms and those developed through individual learning efforts. This system also provides services for individuals/organizations-individual level assessment & organizational level deployment.
13. PresenceLearning
PresenceLearning provides live, online speech therapy and occupational therapy to students of K-12. The organization was founded in 2009 and is located in San Francisco (United States). The company has received USD 414M in funding from NewSchools Venture Fund, Catalyst Investors, Bain Capital Double Impact, and 13 other investors.
The latest video conferencing technology is available here, engaging games and evidence-based activities to help students improve their skills while saving time for educators in coordination with parents or districts.
14. Blackboard
Blackboard is a natural starting point for talking about education companies in the DMV. The company's learning management software has enabled DC, and learning, to be shown as essential factors for the city's technology sector.
Through various acquisitions over time- Remote-Learner UK, Sequoia Retail Systems, and Moodlerooms-Blackboard merged with Anthology last week; big tech company right there!
15. Outschool
Outschool connects kids with a convenient platform of classes to help them learn more about what they're interested in. With courses for students as young as three years old up to 18, Outschool hosts a diverse range of classes that allow children to choose which material interests them most- no matter their age!
Students can also get personalized one-on-one or small group sessions and have the time and attention needed from an instructor.
These 15 edtech companies will help you gain more knowledge in education technology!
Conclusion
We have compiled a list of 15 EdTech companies that you should watch in 2022.
The education industry is transforming, and EdTech companies are leading the way.
As the world becomes more digital and access to information becomes more democratized, we will see a shift in Learning and teaching. EdTech companies are shaping the future of higher education, and it is up to us to learn from their success and adopt what they teach.
You can also read- A Comprehensive Comparison of the Top Business Intelligence Tools.