Some people assume that becoming a millionaire is impossible. Others think that you have to be born into money to ever achieve that status. Both of these assumptions are wrong — if you have the right mindset and a solid plan in place, you can achieve millionaire status by the time you're 30. Here's how to become a millionaire by 30.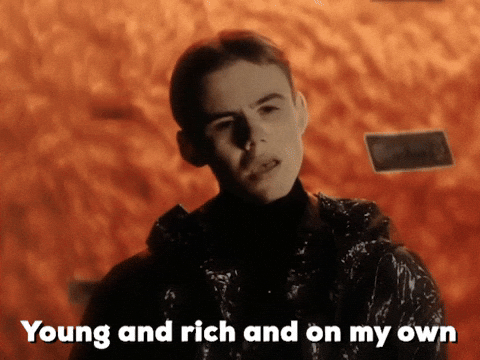 Define Your Goals
If you don't know where you're going, chances are you won't get there. If you want to find out how to become a millionaire by 30, then you need to know what it looks like and what it takes to get there.
The first thing you have to do is set goals. Everyone wants to be a millionaire; however, that's not a goal, that's a dream. Goals need to be specific, measurable, attainable, and time-bound.
One of the things that I've done in my life is to write down my goals. Not only have I written them down, but I've made sure that I've got some kind of visual reminder of them on a regular basis.
But here are a few steps that you could follow to define your goals:
1. Define your financial goals in terms of wealth, not income.
2. Set a realistic time-frame for achieving your goal.
3. Identify your current financial obligations and expenses.
4. List the assets you have available to invest.
5. Calculate your net worth: assets minus liabilities.
6. Decide on the level of risk that is appropriate for you and that you can tolerate.
7. Get advice from someone who has gone through the process.
8. Establish an action plan and execute it.
9. Track your progress and adjust as needed.
Redefine Your Budget
You don't have to spend money to become a millionaire. While it's easy to think that the more you spend, the more you'll make, that's not the case. When you begin to live with less, you actually become more efficient and thats how to become a millionaire by 30.
Think of a budget as a line of communication between you and your money. When you communicate, you're not controlling your money, you're negotiating.
Each time you're able to come to a mutually beneficial agreement with your money, that money will be added to your bank account. It's an analogy that applies in almost every aspect of life, and it applies to your budget.
Develop a system for saving. Many people haven't really learned to save money until they realize that it's much more difficult to spend than to save.
Start an Emergency Fund
Your emergency fund is one of the most valuable tools at your disposal. Not having one could mean living with financial insecurity for the rest of your life. Of course, you shouldn't have to live in financial insecurity.
The key is to avoid getting caught up in volatile markets. The best way to do that is to have an emergency fund. When the economy tanks, you'll be able to cover basic living expenses. When you're rich, you won't have to rely on a job to provide your financial needs.
You can do whatever you want with your time, and you'll likely be able to pay for your living expenses on your own. There are many ways to generate an income. For instance, you could work a part-time job while in college to cover your living expenses.
Invest in Yourself
Most millionaires don't invest money in real estate. You probably can't rent a condo or house in Manhattan for $1 million, and that's why you don't have to worry about losing your money. Instead, invest in yourself.
Do your best to become a good person. Become well-rounded and have a well-rounded education. Get a good job, work hard, and do everything in your power to succeed. Once you have a job, become successful in it, and make enough money to live comfortably.
The greatest amount of wealth and financial freedom is found within you, and you can unlock it by working hard. You don't have to have a million dollars in your bank account to achieve that success. But if you work hard and put the right things in place, you can achieve that level of success by the time you turn 30.
Build a Solid Foundation
Becoming a millionaire starts with creating a solid foundation for your financial future. Most people think that they have to wait until they reach a certain age before they can start saving money or taking steps to get wealthy, but it's a lot easier than you think.
Build a Solid Foundation with Side Hustles
Most of the early millionaires became millionaires without going into debt or taking on extra debt to get there. Whether you want to pursue side hustles in order to create additional income or whether you want to pursue professional education to learn valuable skills, you can use side hustles to build a solid foundation for your future. Once you've developed enough skills, you can use your side hustles to build a massive bank account to spend in retirement.
Build a Solid Foundation with Your Career
From a young age, you'll probably hear your parents and teachers talk about the importance of having a solid foundation in your career. When you get your first job, you'll likely be doing work for just a few years. That's fine, but you'll need to decide what kind of person you want to be, and you need to know what you want to be paid to do. You should also be aware of what those in your industry are paid and how they compare to your salary.
You can also check out sites like Glassdoor to learn about what your coworkers, managers, and clients are talking about. This information can help you pinpoint what your strengths are and figure out how to do a good job. You may want to consider a career change if you're doing things you don't enjoy or if you aren't getting paid enough.
Build a Solid Foundation with your Career by Taking on Risky Opportunities
Your best opportunities to create wealth and get rich happen when you take a risk. For example, if you're in the process of getting your MBA or law degree, you should consider pursuing an opportunity that brings you in contact with a hot deal. The more exposure you have to new clients, the better. It's the equivalent of putting your name out there to get a job at Walmart — it's an easy way to get a little money, but it's still a risk.
If you really want to know how to become a millionaire by 30, then the smart move is to jump in, make some money, and enjoy the journey.
Make Financial Decisions That Aren't Exciting but Pay Off
Deciding to become a millionaire is exciting, but many people find that they lack the motivation to make drastic changes in their finances. Sure, it's great to be able to pay off your student loans, but you can't gain much satisfaction by refinancing your home every year to get a lower mortgage interest rate. By contrast, most millionaires don't want to spend their day thinking about their next home equity loan. They want to be able to think about their financial situation in a way that makes sense and is aligned with their values. This means that they spend more time saving for retirement and making smart money moves — not thinking about their next home equity loan or refinance.
Make Financial Decisions That Aren't Exciting but Pay
Here's a secret about becoming a millionaire: most people would rather do almost anything else than sit down and do a financial plan. On top of that, most people don't feel confident when talking about money. For most of us, handling our finances is not fun, and it's a subject that we'd rather hide from. However, in order to become a millionaire, you need to come up with a plan. If you're going to spend a lot of time thinking about your finances, you need to make them fun! In fact, that's exactly what I did when I sat down and made a financial plan. I worked with a wealth management firm in New York City, and they had me sit down with a financial planner who helped me to turn my dreams into a plan. My goal was to become a millionaire by the time I was 30. And I'm happy that I achieved it.