Amazon is the world's largest online retailer and has changed the way people shop. Their marketplace features tens of millions of products, so you have access to pretty much anything. But with all those options, it can be a challenge to know where to begin when selling on Amazon. This tutorial will teach you how to start an Amazon business.
You will learn how to list your products, get reviews, and improve your business for long-term success. By the end of this guide, you will know everything about Amazon – from how it works and benefits both buyers and sellers, to the best practices for starting as an Amazon seller.
What is Amazon and how does it work?
Amazon is the world's largest online retailer with tens of millions of products. Amazon allows anyone to buy and sell products on their website in various ways, including through Amazon Marketplace. The marketplace features sellers from all over the world, making it an easy way for you to sell your products and make some money.
When you list or sell a product on Amazon, it will appear in the Amazon catalog and information about the price and product details. Potential buyers can then find and purchase your items by clicking "Add-to-Cart", "Buy Now" or "More Buying Choices".
The setup of an Amazon FBA business is up to the seller's discretion: they get to choose which product they want, find a supplier, order the products and package them themselves before shipping. Once an item has shipped in one of their many fulfillment centers, Amazon takes care of everything else.
Choose your product
The first step in this process of how to start an Amazon business is the hardest, and it can be pretty time-consuming. To pick your first product, you have to research what people want and see if there's a demand for that particular item or not.
Start looking for potential product ideas on the Amazon Best Sellers List. The list shows you the 100 best-selling products in each category on Amazon.
You also need to consider how many other competitors are already in the market for your specific niche. If all these things seem impossible when considering expenses like purchasing bulk products at once or having little profit margins on individual items, you may find yourself looking back after starting with an unsuccessful product, no matter how much effort you put out at the beginning of this process.
Even though we do our bests as sellers by picking products that feel like they will be winners from their design and marketing tactics upfront; sometimes better products come up throughout ongoing trial periods even if we try our bests while designing them beforehand.
You can choose to pick a product that you are passionate about or familiar with. Always choose for a niche market and avoid broad categories of products. One way to find your niche is by evaluating the success of a blog you might have or social media following. 
If you already have an audience that trusts what you say and want to hear about a new product, it will be easier for you to find a niche within the content type they are most receptive to. It will also be easier to pick something that interests and excites you because people can sense passion.
Market research is important
Once you've picked something to focus on, start doing some preliminary market research – then explore it in more detail. This is very important for choosing the best product in your journey while exploring how to start an Amazon business. Here are some steps to make this process easier for you:
Price – To ensure a higher profit margin, see that your product falls between the $15 to $50 range on Amazon. Within this range, customers spend lesser time deciding if they should buy the product and may buy it impulsively.
Assess the BSR – The BSR or best seller rank is a good measure to understand how well a product works within a category. It can be found by scrolling down in the 'Product Information' section. You should have around 4 products that have a BSR of about 500 to increase profits.
With a free chrome extension, you can see the BSR on page 1 without having to click each product – so you can just scroll through the products and check how many meet your criteria.
Keywords – A useful way of figuring out the demand for your product is to find the amount of users that search for your product on Amazon. Keywords that are more searched show better conversion rates of users into buyers.
Weight and size – The FBA fees vary with weight and size. The fees for heavier products are higher. Amazon offers resources that will help you figure out the FBA fees associated with your chosen product; these fees vary depending on factors like weight and size.
Reviews – Next, read reviews of your competitors' products and see what they're doing right – or wrong – that might give you an edge or make a difference in their success. The number of reviews on the first page of a product can help you understand the metrics of its sale.
Seasonal vs non-seasonal products – You must determine if customers buy your products most during a particular time of the year. You can use Google Trends to figure this out easily.
Branded products – If there is a popular brand that sells the same product as yours, it is more likely that the shopper prefers that product. Instead of competing with well-established brands with loyal customers, go for categories with lower competition.
Source your product
Sourcing your product includes finding the correct supplier for your product who can give you a good quality product at an affordable price.
You have to make sure that you are fully prepared for the Amazon Fulfillment Center, and they have some specific guidelines. Next, you also have to know how you will ship the product.
Find your supplier:
The costs of your product will determine a lot about the sourcing, so it's important to consider where and how you want to supply. If you're looking for suppliers in America (or proximity matters most), buy a trade magazine or use Google to find trade shows that plan to host them.
Perusing the pages of a trade magazine or wandering around at one might lead you right-to-the door of someone who can provide what you need.
Ship your product:
Shipping domestically is not always the most convenient option, but it can be a good choice if you are transporting bulkier items. The best part about shipping by train is that it allows more time to transport goods over long distances.
It's not nearly as flexible as shipping by truck only, but there may be times when this type of transportation will work better than other options.
If you're shipping products internationally, whether you're using train, air, or boat, you'll have to follow customs procedures and international shipping laws. The benefit of ocean freights is that they are cheaper than other transportation methods. You'll also get a bigger return on your product when maintaining ocean freight during the process.
Understanding your sourcing options as an eCommerce seller is important, and it's easy once you know what they are. Most startups and small businesses may think of wholesale products or manufactured goods first, but these are just two out of six methods when it comes to how to find products on Amazon.
Listing Your Product
Amazon will help you determine what pricing tier your product falls under and how much profit you should make from each sale when you list your product. It will be easier to plan out your financial goals with accurate profit margins in place.
This is the most crucial aspect of how to start an Amazon business. To list a product, you must first create an account and log in. Click on "Add new product" and select the appropriate category for your item.
Next, input all of the relevant information about your product (including its title, description, price, and other details). If you're unsure how to fill out some of these fields, Amazon provides a guide to filling fill out each section. Once you have added all the information about your product, click "Save & Finish".
Marketing Your Product
Source : Sponsored Products
Amazon provides many marketing tools for sellers to use. These are designed to make your job easier, and they simplify the process of marketing your products. Amazon offers a variety of free or low-cost marketing tools, including:
Sponsored Products: These ads appear at the top of search results pages when someone searches for a relevant keyword. When someone clicks on your ad, you only get charged, so they're ideal for products that people might not be familiar with.
Product Display Ads: With these ads, you can promote a product by showing it alongside other products on search results pages. They're great for showcasing your brand and highlighting new items to customers.
Coupon Campaigns: With these campaigns, you can offer discounts on select items to increase sales and attract new customers – especially people who may have found your products but weren't quite ready to buy them.
Giveaways: Giveaways are an excellent way to get attention from potential customers while also giving away something related to your business – like a free T-shirt or sunglasses with purchase.
Here are some more things to consider so your product sells more:
Product description:
SEO keywords are the foundation of SEO, which helps optimize titles on Amazon. Keep in mind that your product's title should include its name and if you have a private label, it too. Be sure to include those common search terms customers use when looking for products.
Advertising:
Once you've got that great product listing, it's important to look into advertising. A popular option is using a Pay Per Click program which can help you gain a wider audience. Amazon's PPC option can help promote your product to the top of their search engine, so it appears as a "Sponsored Product." It helps customers find your item within the vast sea of Amazon products.
You can find more customers for your product on Facebook. PPC advertising is a cost-effective way to reach specific audiences, and you have options depending on the budget. You can create individualized campaigns or even target an audience to get them interested in your ads.
Improving Your Product for Success
It's important to have a good product when you're selling on Amazon. But what makes a good product? It is not easy to, but some qualities make a product more desirable to customers.
Here are some tips to improve the quality of your products:
After you learn what your prospects need, it's important to create a product vision that will allow for more strategic approaches in the development of products. After you have determined your goals, it is time to translate them into clear details. This can help you prioritize your product roadmap. You will be able to compare the logic of these two and make adjustments where necessary when they do not align with one another.
Implementing a quality management system is an excellent way to audit your processes and provide certification for the same. ISO 9001, which provides assurance of quality, is worth it if you are looking to increase the production of high-quality products.
Giving employees the opportunity to be involved in product development is crucial for any company. Employees will feel like they have a say if you allow them to give honest feedback on quality standards or straying from your product roadmap. You need this kind of feedback because employees are closely connected with production and can provide valuable input into how they believe these products should be made.
It is important to analyze and test your product prior to launching it. In this way, chances are you will need to fix errors, add features or change the functionality so that the product meets consumers' needs and requirements.
You will also have to test how people react- a process called alpha testing- as well as via market testing in order for buyers of your service or product satisfied by making changes where necessary beforehand with regards what they want in their purchase.
Outside of the quality of your product, people also care about the price, how quickly it ships, and what kind of reviews it has. These qualities can greatly affect how much success you will see on Amazon. If your customer has to wait too long for their item and it arrives damaged, they probably won't want to buy from you again. They'll find another seller who offers faster shipping with protective packing materials.
Finding the right balance between quality and customer experience is key if you want to be successful on Amazon.
What does it take to be a successful seller?
One of the important factors in being successful on Amazon is having a good rating. If you have a bad rating or many negative reviews, it will be hard for people to find your product when they search. For people to find your products, they need to be able to read your reviews.
In addition, if you want to make more money as an Amazon seller, you will also need to have competitive prices.
If other sellers are selling the same product as you at a lower price, customers won't buy from you because they could buy the same thing elsewhere for less money. You may not make any sales if your prices are too high or uncompetitive compared with other sellers.
Another important factor is shipping costs and speed. Customers like fast delivery rates and affordable prices are key factors in determining how many items customers purchase from you compared to other sellers.
This can be tricky because it takes time and effort to get good shipping rates and optimize your prices for both shipping and products sold.
What are the best practices for long-term success?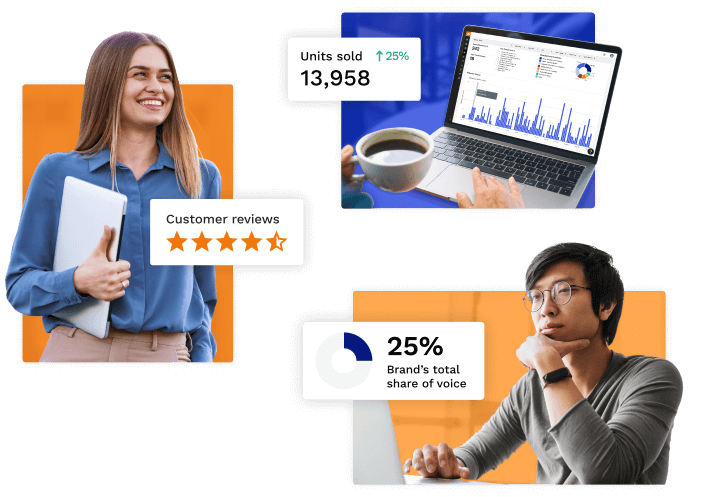 Source: Jungle Scout
If you are just getting started on Amazon, the best practices for long-term success will help you establish your brand and create a sustainable business.
The right way to start is by focusing on the customer experience. You must offer excellent customer service and provide good products at competitive prices. Customers will be drawn to brands with a good reputation and come back to buy more.
It's also important to monitor your performance to improve your business over time. Tools like Jungle Scout are invaluable for tracking sales so that you can optimize your marketing campaigns.
Conclusion
This article showed you how to start an Amazon business and then gave you the knowledge and tools to make your product a success. You don't need to know all of the tips and tricks, but you should understand what it takes to be a successful seller on Amazon.