If your business idea is just in your head, it's difficult to convince investors and shareholders that you have a credible business, and this is precisely where a business plan comes in. It's an outlined document describing who you are as an entrepreneur or organization, what plans for the future are being made (and how they will be achieved without any risks), and the anticipated returns from these investments. It is very important to know how to write a business plan to increase the chances of your business success.
People often think of creating a plan only when starting up new companies or applying for loans, but they're also essential to running businesses with detailed plans. Several tools could assist you in planning your business. 
A business plan is a map that shows you the way to your small business's growth. It tells who you are, what your plans are, and how they will be accomplished with an interactive roadmap. An entrepreneurial canvas is a great approach to starting business planning. A good road map attracts investors, employees, and interest – use it as a tool today. 
In this guide, you'll learn how to write a business plan without any complications or frustrations. With the help of these steps and tactics, you will be better prepared to start, run at full speed and grow your business.
1. Executive summary
The executive summary is a short overview of your business and the plan. It comes first in the business plan and should ideally only be one or two pages long. Most people write it last, though, which means they can act as a standalone document covering their detailed plans' highlights.
Your executive summary should include:
A synopsis of what problem do you hope to solve
What is it exactly that you provide your customers/users?
Who is your target market?
Brief descriptions about each person who makes up your team
When investors judge whether to invest money into your company's project, they often ask for an executive summary rather than reading through all the details themselves.
If you have convinced them with this document alone, then the chances are high that they will request more information, such as additional documents like a full explanation of how you came up with those financial projections.
2. Products and services
The products & services chapter of a business plan is where the real essence of your plan lives. It includes information about the problem you're attempting to solve, your solution, and how it fits into the existing competitive landscape.
Begin this section by explaining the problem you are solving for customers and their solutions. This should describe your product or service in one sentence (or two at most).
Next, outline who else provides solutions to solve pain points similar to yours; these businesses are competitors to yours. What advantages do you have over them? If there happen to be any intellectual property or patents protecting different features such as designs specific features on products, this would also belong here – so mention those things too.
Finally, review milestones and metrics from this point onward: these will tell potential stakeholders when they can expect further developments with target dates set out for progress.
3. Business goals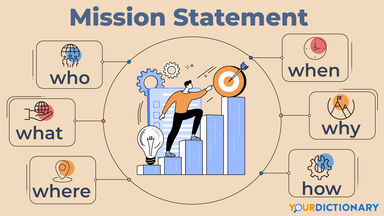 Business goals are important in the process of how to write a business plan since they give your plan some purpose. A statement containing your business goals should clearly define your company's goals and include a business strategy that describes the methods you plan to execute to achieve them. It spells out precisely what you want to accomplish, both in the short-term and over the long term.
If funding is something you are looking for, this section will explain why it's necessary, how the financing will help grow your company, and list growth targets specific to each form of financing.
The key is providing a clear explanation of the opportunity presented by making an investment or taking on debt with repayment terms outlined, including any guarantees offered/provided (if applicable).
4. Market analysis
The information in the following section will help you understand your target market. You'll learn about how significant events influence your potential customers in today's world, what they currently spend on products like yours, and where we could reach them with advertising.
First, describe who these people are-their age group and gender mostly, and other characteristics that matter to us such as their interests or socioeconomic status (SES).
Next, provide research showing how a representative sample of these customers behaves when it comes to product spending patterns-how much they typically buy each month versus waiting for price drops; whether they prefer one type of store over another even if it means paying more; etc.
Finally, explain any changes that might happen because this industry is experiencing rapid technological change – for example, do recent developments mean some customer segments now have less disposable income? How does this affect our future marketing plan?
5. Marketing and sales
The marketing and sales plan part of your business plan details how you intend to reach your target market segments, sell to those markets, and what pricing plans are in place for these transactions. Some businesses that distribute their products through stores like Amazon.com or Walmart should review how this part of the company works.
The marketing & sales chapter can also be a good place to include a SWOT analysis- if desired – which outlines any threats and opportunities that exist with competitors and the potential advantages afforded by certain strengths.
This is an optional addition but might explain why certain decisions were made when it comes down to positioning yourself against competition while capitalizing on unique offerings or qualities possessed by the company's goods or services.
6. Structure and management
Investors search for credible teams in addition to great ideas. In this chapter, you will describe the existing team and team members you will hire.
You will also provide a quick summary of your:
legal structure
location
history
Include brief bios that contain the relevant experiences of each core team member- make sure it is clear why this particular group makes sense as a founding unit. Current members should have experience with entrepreneurship or industry knowledge related to what they are going into business for; investors want evidence that other successful ventures have been had by prior members too.
The most common business structures include:
One of the first questions a person will ask when planning to start their own business is what kind of business structure they want. The decision for this can also help them plan how much taxes they'll have to pay, and if any future expansions are needed. Mentioning your business structure explicitly is something a lot of businesspersons forget while thinking about how to write a business plan.
7. Financial information
A financial plan is a chapter that often intimidates entrepreneurs. However, the truth of the matter is it doesn't have to be as intimidating as it seems if you are aware of what resources are available for your use or need help from professionals.
Often, there will be fewer business complications than anticipated, and a degree in business isn't required to build a solid financial forecast. If assistance is needed by way of tools or other sources, they will most likely exist for your use.
These four sections are needed in this section –
Sales and revenue – A sales and revenue forecast per month for the first year, with annual projections for the next few years. Three-year projections are typically appropriate, but investors may request a five-year forecast.
Profit and loss – An income statement describes the numbers that summarize how your company did over a certain period. It shows whether you are making a profit or suffering from losses.
Cash flow – The cash flow statement considers your money in the bank at any given point. This is different from the income statement, which calculates profits and losses.
Balance statement – The balance sheet is a list of the business's assets, liabilities, and equity. In short, it provides a glance at the financial health of your business.
The financial analysis in your business plan will determine whether or not your idea is viable, and any investors who are interested in investing in it will scrutinize the numbers.
8. Appendix
The appendix section is something that not all people think of while figuring out how to write a business plan. However, it can be useful too. The appendix includes a list of any supporting information or other additional information that couldn't fit anywhere else- such as resumes of key employees, licenses and permits, patents, bank statements, and business credit history. If the appendix is lengthy you may want to consider adding a table of contents at the beginning.
Summing up
You must also take advantage of resources that are both free and plentiful. SCORE is a nonprofit association with volunteer business mentors and experts who can help you write or edit your business plan. You can also search for mentors or find a local chapter to get more guidance.
The U.S Small Business Administration's Small Business Development Centers, which provide free consulting on writing the perfect small-business plan and other necessary services, maybe just be what you need too. Your business plan can be the perfect outline for all the steps you must undertake after you have formed it. 
To build a successful business, you need to plan the process. Now that you have read our guide on how to write a business plan, this process is going to become much easier.
Business planning is an ongoing process that can help validate your idea, set goals and manage your company's potential. Business plans give direction, motivation, and context for employees and reassurance and risk mitigation for financers.
Lack of planning is the key to failure, and a business plan will help you succeed. Before your small business gets up and running, make a plan that instills confidence in everyone involved.