Human nature is wired to be socially active to some level by default. People have always sought ways to network and engage with one another and have discovered ways to be socially active on the internet in this age of digitalization, which is now possible thanks to the proliferation of social networking platforms and apps.
Social media has given people a platform to raise their voices and share their opinions with the world.
The number of people using social media sites has exploded. According to Statista, approximately 2 billion people used social networking websites and apps in 2015. This figure was expected to surpass 2.6 billion by 2018, because of the rising use of mobile devices.
The year 2020, on the other hand, changed nearly every element of our existence, including how we socialized. Distancing oneself from others has become a typical feature of our life, leaving a void for the personalized communication we used to enjoy in person.
However, creatives are always looking for a new idea to revolutionize this gap and create new apps to help the population stay in touch. This boom will only increase in the coming days as new and better platforms are constantly being created and added in the app stores.
This post presents our top tips for new social media platforms.
These platforms are different from Facebook, Instagram, and Twitter. These social media platforms have been around for a while and it's time you got to know them.
Here are more details about these networks – who uses them, how they can work for you, and what sets them apart.
1. Twitch
Twitch is essentially a live streaming platform that allows video game enthusiasts to interact with their audience in real-time. It was launched in 2011 and has over 140 million active users. Most of its visitors come from viewers of these games.
If you want to become a successful live streamer on Twitch, all you need is an Internet connection and the game of your choice. You can either record yourself playing popular games like Fortnite or Minecraft while the audience watches and engages with them, or exclusive content for those who choose to subscribe.
Apart from the game content, you can also find videos and live streams about cooking, music, or other topics on this social network. Twitch also offers live interactive shows such as esports events to festivals with over 30 million average daily visitors.
Twitch is a new social media platform that is an interactive platform for gamers. It has great potential to connect marketers with their target audience by building personal relationships. Brands can engage their audience in various ways, including Q&A and behind-the-scenes content. Many of Twitch's viewers are between 16 and 34 years old.
Twitch streamers, like other influencers, can earn a living through subscriptions, advertising, and donations.
As a business, you can choose between different types of ad placement – on the homepage carousel and during live broadcasts. You can even sponsor specific streamers whose viewers are highly engaged with them.
As Twitch's audience becomes more diverse and extends beyond gaming, it becomes easier for brands to find their way. Furthermore, brands are not confined to collaborating with streamers on the site; by investing in a brand account and features like emoticons that can be used on the network, they can more easily develop their presence.
2. Discord
Discord was originally a gaming platform and has evolved into a comprehensive chat app and a new social media platform. It was launched in 2015 and has over 100 million monthly active users.
The platform works with servers, which are groups of people who want to interact. Any user can either join a server or create their own and if they have an account, they can blog on the community forum.
When Discord launched, it was most popular with gamers looking for a platform to stream games and connect with the broader gaming community. After raising $100 million in 2020, the company announced expansion plans beyond that community.
Discord was redesigned, and communications refocused to become an all-encompassing platform for brands.
Discord does not run ads on the site, making it an organic offering for brands. Otis had great success with this project before them. Discord is a place where brands can succeed and build true brand loyalty. To be successful on such a platform, brand managers need to invest in their audience and think long-term.
3. TikTok
In 2018, two popular apps – Musical.ly and TikTok – merged into one app with the same name and became a new social media platform launched in 2017. Today, this new app is more popular than other popular social media platforms and it is expected to reach 1.5 billion users in 2022.
Those familiar with Vine or Musical.ly will know that TikTok is like a combination of both.
The best thing about this platform is that you can record short videos that play in a repeating loop, just like Vine. You have the option to add fun effects, AR filters, text, and musical overlays to keep things from getting too boring! This type of video has been adopted mostly by users under the age of 30.
When you create a video with the app, you can customize your video by adding hashtags to make it appear in searches.
On TikTok, one of the ways hashtags are used is through the Discover tab. In their platform section, you can browse the latest hashtags and join in. If you post a video in response to a challenge, be sure to include the appropriate hashtag so those who follow you can see your posts.
So far, fashion, publishing, and entertainment companies have been on TikTok for some time. As the platform grows, we could see an expansion to other industries that can add creativity and visuals to their marketing tactics.
4. Clubhouse
Clubhouse is a new social media platform that offers an asynchronous audio experience. It was launched in 2020 and has over 10 million active weekly users. You can interact with other community members or listen to speakers in real-time. Content shared on the site is often discussed live, creating an interactive environment for members and guests alike. 
It is more of a platform than an actual podcast. It's a way to share information with your audience, who can respond in real-time.
You may be wondering, what is happening in Clubhouse? The short answer is that it's a little bit of everything. Topics like starting a business with the help of top venture capitalists, relationship discussions hosted by celebrities, and even comedy clubs presented by up-and-coming comedians all find their way to live audiences.
This new social media platform is different from most other social media platforms and has even contradicted many. Clubhouse was a social media app where privacy was paramount. Clubhouse is invite-only and is created to connect techies. Not only have Silicon Valley techies jumped on board, but so have key movers and shakers like Elon Musk and Mark Zuckerberg. A-list celebs like Oprah Winfrey and Jared Leto rushed to sign up as well.
It's not yet clear how Clubhouse can work for marketers and brands, although professionals are experimenting with it right now. The race to crack Clubhouse's code is fast, as content creators build their audiences quickly in hopes of securing monetization opportunities as they become available. Not sure how to leverage it? You can host an informal focus group, start a conversation on one of your company's high-traffic blog articles, or join a discussion hosted by someone in the industry.
Also read: The Importance of Social and Environmental Entrepreneurs in Our Society
5. Reddit
This platform was launched in 2005 by Steve Huffman, Alexis Ohanian, and Aaron Swartz. It has its headquarters in San Francisco. Their monthly active users are over 430 million. Reddit claims to be "the front page of the internet," and according to Alexa rankings, it is one of the top 20 most-visited sites.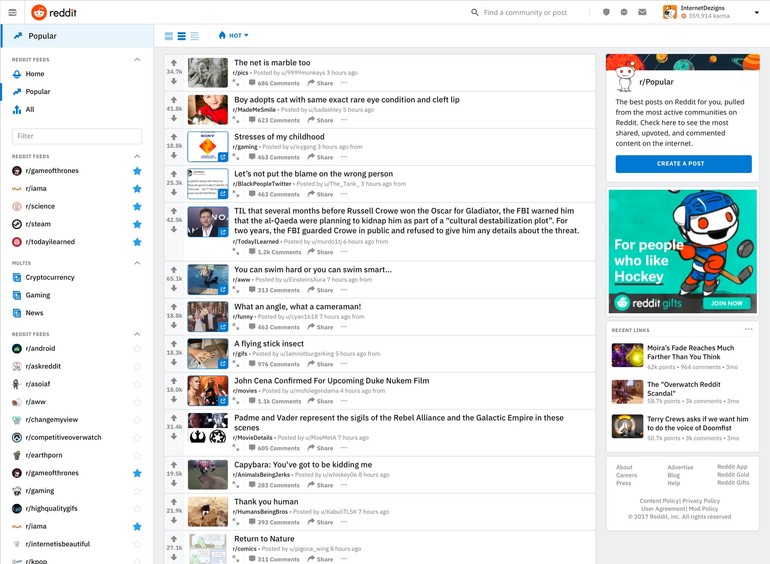 Reddit has a wide variety of unique content with over 150,000 user-created communities for every imaginable topic.
With so many niches and potential customers, there is a niche for every brand and business – all you need to do is find the niches where your target audience is active, go in hard, and reap the benefits.
Reddit is a place where people can share and discuss anything on the internet, not only that but it won't tolerate any blatant self-promotion. This means you have to be careful about how you advertise your brand there because if you get it wrong, commentators will jump in and make fun of your brand.
6. Helo
Helo is a social media platform that offers content in over 13 Indian languages, including Hindi, Marathi, and Tamil. You can call it the Chinese version of a successful platform – one of the best in India! With this app, you can make new friends on Helo and follow the fan pages of your favorite celebrities.
Helo offers a variety of content in different categories like food, entertainment, memes, and status updates. The platform is very similar to other regional apps like ShareChat and Daily Hunt, which are powered by an extraordinary technology algorithm in space.
Helo is a new social media platform with over 50 million users, and what makes it so popular is how easy it is to use. This platform was downloaded 10 lakh times in the first month alone – and not just in India, but also in other countries like Qatar, Singapore, and Bangladesh. With this new app, you can search in local languages and easily tag your posts.
Helo has also partnered with brands popular with regional audiences to produce, monetize and showcase content shared on the platforms. For example, Helo collaborated with Bigg Boss Kannada as a digital media partner. This allowed users of the app who are Kannada-savvy to connect with a large community of influencers.
7. Vero
Vero is a digital media platform, similar to Instagram. Among other things, it allows you to share movies, books, and TV. Vero allows you to create an accurate profile by adding your tastes and preferences in different areas. Artists can post their art on Vero to share with others who are also interested!
Vero is a new social media platform having no ads and only offers content through four options: close friends, friends, acquaintances, and followers. It's also considered an 'authentic' social network because no algorithms determine what you see – it's purely organic. Moreover, it can serve as a sweet alternative to Instagram by offering exclusive features to its users, such as more privacy or research capabilities to find out what customers want from their marketing campaigns.
Vero is a social media app with 3 million active users. It aims to fix the problems other platforms face, such as data mining of personal information and non-chronological feeds that come with ads.
Because of its user-friendly design, Vero can improve interactions with brands. The best engagement occurs when a visually appealing fee incentivizes brands and promotions. However, it's still too early for Facebook or Instagram to move ads to Vero. However, it might be worthwhile for marketers to explore how this app's evolving business model works.
Conclusion
In this new digital age, the power of digital and social media platforms will only increase. Due to a large number of old and new social media platforms around the globe, it is not difficult for users to find one they like. However, many people are still looking for more interactive and transparent sites. Newer apps offer these features with ease!