The first step in opening your restaurant business is determining what you want to make and sell. Once you have decided on that, a restaurant business plan guides your restaurant's future. It is essentially a blueprint for running your restaurant to understand how we will do things in the present. We have you covered if you're wondering how to write a restaurant business plan.
You need to know how to properly write a business plan for a restaurant. Your restaurant's business plan will sustain your brand as you grow, where you'll take it, and how you'll achieve those goals.
It must be structured in a simple and understandable, logical, feasible, and sustainable manner. Think about all the possibilities (and pitfalls) that come with running a small service before you sit down to design your proposal for such a plan, which includes pricing information for each item on the menu so that customers can make informed decisions about their order.
Why is a business plan important?
Starting a restaurant can be difficult and time-consuming, but you'll unlikely find an investor to help fund your dream without a proper plan. And even if one is found, the lack of rules or projections will make your business unlikely to succeed.
Lack of planning in the early stages may mean you fail in the long run. That's why it may be worth taking some pain now so you can be rewarded for it later.
First, an effective business plan can help you raise money for your venture. Potential investors and lenders want to hear a written document, not just a concept before they will grant you financing.
Second, writing an effective business plan allows you to make informed decisions as a responsible entrepreneur. You'll focus not only on financial matters but also on the management, workforce planning, and technology issues so that customers can get the best possible value from their investment in your company's goods or services.
A business plan will help you identify potential weaknesses in your idea. You can also share the plan with others who will give you their opinion and advice. Find experts and professionals who can give valuable advice and share your plan with them.
The next step is communication – you can use it to secure investment capital from financial institutions or lenders, convince employees to work for your company, get credit from suppliers, attract customers, etc.
Process of writing a restaurant business plan
When creating a business plan for your restaurant, you need to consider factors such as the restaurant's style, target market, and location. This may be daunting for new restaurants, but we have listed the most important elements for creating a restaurant business plan.
Depending on who you submit your business plan to, you may want to change the order of the sections to reflect priority.
1. Executive Summary
The business plan for a restaurant begins with an executive summary. Therefore, it should be very well written and provide a lot of information in as few words as possible. An executive summary includes many things, including the following:
Proposed concept
Execution
A brief look at potential costs
Expected return on investment
An important element for those looking for investors is what return they can expect on their investment – something that is not always found in the average restaurant business plan without it being included in the execution or cost section.
2. Company Description
This is the part of our restaurant business plan where we fully introduce the company. First, include all relevant information about your restaurant's name and location and any contacts or partners – this will help potential investors understand what they are investing in.
The business overview of the restaurant plan includes three aspects:
The layout of the restaurant/the type of service
Sample menu
Management team.
Provide key information about who runs the restaurant, their experience with restaurants, and why they believe it will be successful – this has been detailed above.
You could expand on a few points here to show that you understand how the competitive food industry works and what sets your concept apart from other restaurants in your area.
Finally, provide an overview of your short-term (1 year) and long-term (5 years) goals for marketing, etc.
You should also mention unique selling points/competitive advantages: Why do people want to eat at your restaurant and not another? The answer can be found in various aspects such as prices, quality, service, etc., so talk about these aspects as well.
3. Industry Analysis
The first thing you need to do is identify your target customer, the amount they are willing to spend, and the other demographics of their buying behavior. You can serve them better if you know exactly what they want from a product or service.
There are three main parts to industry analysis:
Location analysis
Target group analysis
Competitive analysis.
Industry analysis is a process carried out before investing in a company. It involves studying the industry and current market trends to gain better insight into the company, its potential risks, and opportunities for growth.
This research should not be second-hand because markets change quickly. So it would be very dangerous for you to rely on the insights of others when making decisions about your own money.
The second step is to understand that every market has a sub-sector, especially the F&B industry. This means you need to do a detailed restaurant analysis and decide what format your restaurant will take. Industry analysis and business plan for a cafe are inherently different from those for food trucks or restaurants.
It is important to decide which sub-sector you want to address before analyzing it for various characteristics specific to that type of format, such as space availability, resources needed, etc., and then create your unique restaurant business plan based on those factors. (The first sentence in this article should be a little less detailed).
Before deciding where to open your restaurant, consider who you want to serve. The customer base is the crux of the matter when it comes to what research and analysis need to be done for the industry. Depending on your target audience, any decision will depend on cost-based items like menus or interior designs for a specific type of people.
Location Analysis – Restaurant location analysis should include understanding all the different factors that need to be considered. Just because a certain location has worked well for someone else in the past does not mean it will work for you and vice versa.
4. Menu
One of the most important aspects of opening a restaurant is the menu. Without it, there are no dishes to serve your customers.
You probably do not have an exact design, but at least try to come up with something while you are working on your business plan (and do not forget to include your logo).
Add some images that reflect what you want people to see and feel when they contact these menus.
However, the key element of this sample card should be the pricing, as the prices reflect the cost analysis that was done earlier. This better understanding of the target price – the targeted profit margin – makes even early steps much more meaningful.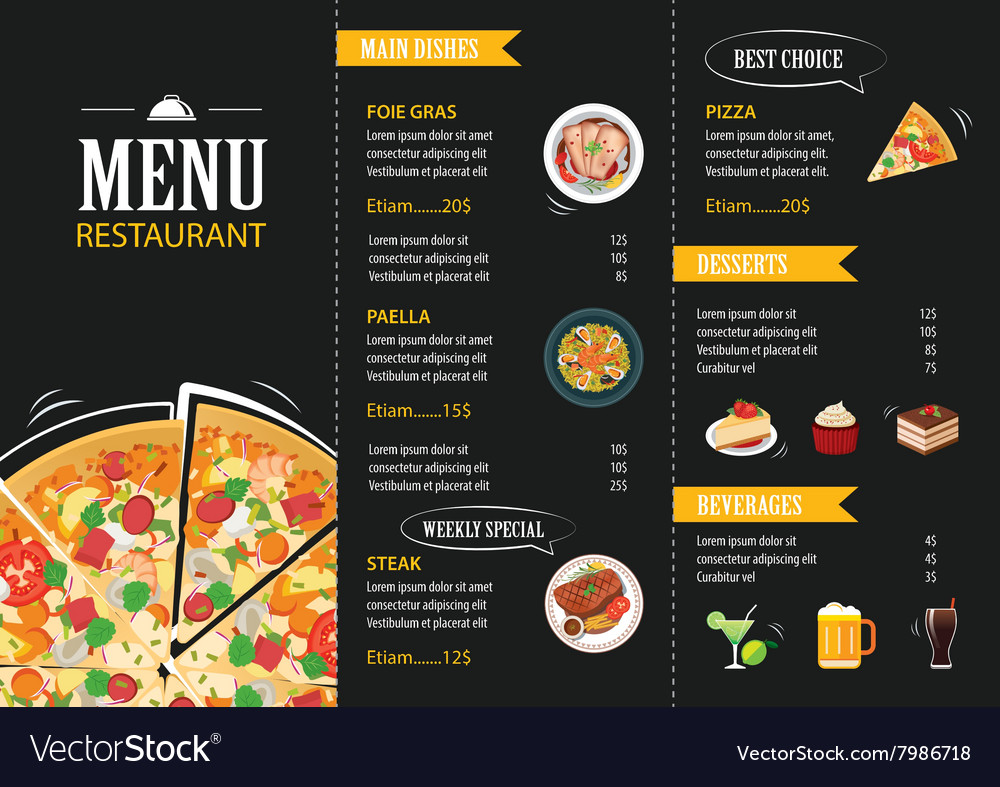 5. Employees
To be successful in the restaurant business, you need a well-thought-out plan. You should provide details on how many employees are needed for each area of operation, such as kitchen and service.
You should also think about the hiring process and job descriptions so that they can be determined in advance and appropriate training manuals can be created. It is absolutely important to decide at this stage what customer service will look like, as it will affect the overall guest experience in your restaurant, depending on its format.
6. Operation Plan
In the company description section of the restaurant business plan, briefly introduce each management team member with some information about their experience. The investors don't expect you to have selected everyone at this point, but it's a good idea to at least have a couple on board that can highlight what they're bringing into play-their combined work experience.
Personnel management –
Once you have found the right space and planned the design, your next big challenge will be finding staff for your restaurant. You should know that running a restaurant is very labor intensive.
Your team will determine the success or failure of the business, so they deserve special attention in terms of compensation and benefits. If things are going well at home, you should also share some profits with them.
The business plan for the restaurant should include information on how many employees are needed for each department (kitchen staff, waiters), hiring procedures including job descriptions, and training manuals for each position available in the current configuration of the business.
Customer Service –
The type of service you will provide in your restaurant should be determined before launch. It is critical and affects the overall experience for customers. You must choose customer service that is aligned with the format of your restaurant to ensure a quality restaurant experience at all times.
7. Financial Analysis
The most important thing to remember about finances for a restaurant is realism. You should have a personal financial statement and a balance sheet and a regular cash flow statement.
The owner must keep an eye on all cash receipts and disbursements in their business accounts and pay careful attention to debit/credit entries each day. Also, be conservative in the beginning – your sales from the opening week will not always be repeated in the following weeks (especially if this is your first restaurant).
The financial analysis must include the cash flow statement, revenue projections and cost analysis in the business plan.
Cash Flow Statement
A cash flow statement is how your restaurant takes in money and where it goes out. It appears like a map of the restaurant. It is an important tool to spend time on, not only because it gives you a clear picture of how much money is coming in and going out, but also in terms of planning for the future. To learn more about why you need to be concerned with your cash flow statement, read The Importance of a Cash Flow Statement
Capital
The capital mentioned above is the money that comes from the finances of your restaurant business plan. This includes things like operating costs, fixed costs, marketing costs, and other departments of your restaurant.
This part of your document also mentions how long you will support the system and when you expect to break even. There is also a contingency fund, as well as a fund for emergency expenses (in case something gets damaged or breaks).
Expenses
Capital expenses are also known as fixed expenses and are long-term investments you make in your restaurant. These include the cost of equipment and machinery, utensils, and interior furnishings for tables, chairs, and dishes, decorated with wall hangings or lamps.
Operating expenses refer to the more mundane operating costs such as salaries. Not only salaries but also the depreciation of equipment such as refrigerators or ovens must be taken into account when calculating operating costs, as well as other recurring expenses that may occur during the year – for example, rent.
8. Restaurant Marketing
Competition in the restaurant industry is getting tougher by the day. The key to a successful restaurant plan is marketing, which you should have planned in advance. Set your budget for online and offline marketing in the plan itself so you know how much money you need before you launch.
Remember to spend a fair amount on promotional materials such as advertising or branding campaigns that get your business name and logo out there, as well as your restaurant offering, so that it's at the top of customers' lists when they decide where to eat or order takeout.
Restaurant Introduction
Soft launches are a great way to get unbiased opinions about your restaurant before the official launch. No later than 3-4 months or 6-8 weeks after opening, it is customary to hold an event to which people outside the industry are invited so they can enjoy food and drink while giving you feedback on what needs to be improved in your restaurant.
The most common mistake restaurateurs make is not waiting until their business is making enough money and offering everything for free at a hard opening party, which puts them in financial trouble. This buffer time of 3-4 months gives you time to get comfortable with the operation and save extra money for successful future events.
Marketing
One of the most important aspects of promoting a business is marketing. Marketing can be done both online and offline – both are equally important to your success. It is imperative that you know how to utilize all available channels on social media so that your business can get the most out of it.
Smart marketing strategies take into account current market trends and combine some elements from all advertising options simultaneously to create a restaurant brand and appeal to customers while limiting costs when necessary.
How to format a restaurant business plan
If you are starting a new business, having multiple formats for your business plan makes sense. The information and details remain the same, but the length and presentation are adapted to the circumstances. Below, we explain four common types of business plans that cover a variety of situations:
Even if your situation falls under a particular type or category, be aware that there may be secondary considerations and nuances in which each style differs from another.
1. Elevator pitch
An Elevator Pitch is a brief summary of the Executive Summary of your restaurant business plan. The Elevator Pitch is not packed with details, just a teaser you use during an elevator ride to pique the interest of potential customers, partners, or investors. It should be between 30 and 60 seconds long and include the key points of your restaurant business plan.
2. Pitch Deck
A pitch deck is a PowerPoint presentation with visuals and spoken language that shows how you will outline your business plan. Most decks include graphics to illustrate market trends or benchmarks to make decisions about the business.
Some entrepreneurs also use this time to demonstrate new products before they hit the market. However, this does not apply to a restaurant business plan, but you could distribute small samples of food or taste portions of newly developed dishes (which do not take up much space).
3. Stakeholder Plan
A stakeholder plan is a written presentation that business owners use to describe the details of their business model. The length can vary depending on how much information you want to convey and who it's aimed at, but as long as it's well-written, clearly formatted, and aimed at those viewing it from the outside, they should be convinced by your findings. 
Think of your stakeholder plan as a tool to convince others that they should be involved in making your business a reality. Write about them so readers will want to work with you to support your growth.
4. Management Plan
A management plan is just one of your restaurant business plan templates. This form describes the details owners and managers need to keep their business running smoothly. 
Unlike a stakeholder plan that any outsider can see, a management plan is for internal use only. You can be more open about what you write in it since most of the content is of no interest to outside stakeholders anyway, so go ahead and write.
Conclusion
The article is a complete overview of how to write an effective restaurant business plan. It is that kind of a plan that will take your restaurant plan from a paper to reality. Following the steps mentioned above will help you get your business idea out there and make it a success. However, one does not necessarily conform to the ones mentioned in the article. Write a plan and get your business idea starting.