The SaaS business model is one of the most famous internet eras. It's relatively new in terms of its introduction to businesses. To give you an idea, SaaS (Software as a Service)- was coined by John Koenig for an SDForum Software as a Service Conference back when he created this term 15 years ago.
Since then, there has been tremendous growth throughout this industry linked with cloud computing power, and today, it makes up a fair share of B2B tech.
What is SaaS?
Software as a service, or SaaS, is when software is made available to the customers on an ongoing subscription basis for as long as they maintain their subscription. This type of software relies heavily on being cloud-based and centrally hosted to function correctly.
When users subscribe to this system, they are not responsible for any software. The server and the security are taken care of by the company, as well as maintenance and updates. In general, all a user can do with this system is access it via their web browser or mobile app or download desktop software.
Another perk of selling software as a service is that your customers will continue to use the same benefits with recurring revenue once you have your customers. This allows for large-scale offerings on the market.
What is the SaaS business model?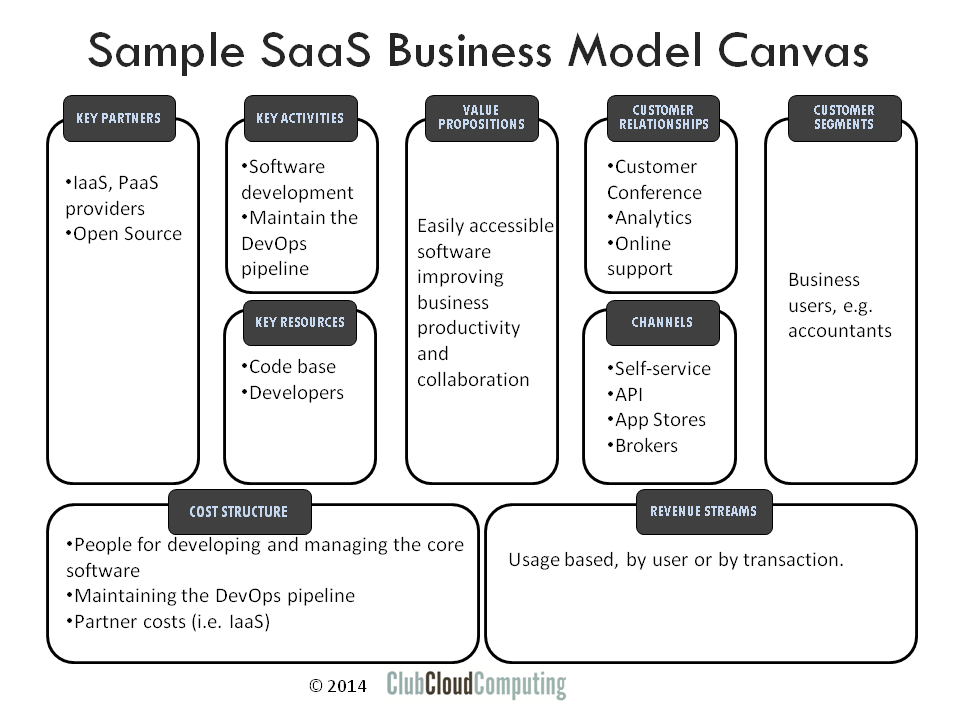 Although SaaS (Software as a Service) might seem like a straightforward business model, it is pretty complex in reality. The peculiar characteristics of the business model are:
SaaS business models are primarily based on the recurring payment of a subscription. What starts as one sizeable initial investment will gradually become small payments from multiple customers over time. The benefit for SaaS companies is that they have an excellent source of revenue each month.
Customer retention is significant for all businesses, but it becomes critical for SaaS because revenue depends on retaining customers. It's a win-win strategy to focus on good relationships with the customers and upsell them based on their needs to meet customer expectations while avoiding churn (leaving the business).
Quality service keeps customers up-to-date with updated versions of their software. This can be done gradually and whenever, making it easier to provide what the customer needs at any given moment, unlike standard software, which must wait for a new release to include all changes or improvements made since the last time it was released.
Advantages of the SaaS Business Model
The many benefits of using Saas (Software as a Service) have made it the primary business model for software companies. Customers get more value out of this, so do businesses in general.
One of the many benefits of SaaS is customer loyalty. If your product becomes essential to their business or lifestyle, they will become loyal, and it's precisely this loyalty that makes SaaS a profitable business model.
Renting is a temporary agreement between two people over using something, usually to make some money. In practice, when renting software from you, it means that your customers will just have to keep paying for its use for them not to stop using it.
This means that instead of making a single sale, the company can earn recurring revenue from an investment. Once it exceeds the amount invested, this will turn into profit.
Disadvantages of the SaaS Business Model
The problem with the SaaS business model is that it needs substantial initial investment, but then its monthly payments will be smaller and divided among many customers. 
The great challenge of this type of service is in the connection between one of its essential features – regular revenues- to an endemic dilemma: the need for significant investments at first.
Selling software this way is more challenging than trading it in one go. In the latter case, the price may be higher, and you would need to invest your first earnings before making any further sales.
The other difficulty lies precisely in that since it's a recurring service, you need to continue updating and improving your product while also ensuring its safety- which means an investment of capital and time, personnel, and energy.
Popular Types of SaaS
CRM – Salesforce, Pipedrive and Hubspot;
ERP – Sage and Netsuite;
Accounting / Invoicing – Xero, Quickbooks and Wave;
Project Management – Trello, Asana and Basecamp;
Web Hosting and Ecommerce – AWS, Digital Ocean and Google Cloud;
Human Resources – Bamboo, Web HR and Eloomi;
Data Management – Clear Company and WebHR.
SaaS Business Model Virtuous Cycle
There are many important aspects for driving SaaS revenue growth- regardless of whether they're with a startup or an established software company that has shifted to the cloud.
However, three essential metrics form the foundation of any successful business model: Customer Acquisition Costs, Customer Lifetime Value, and customer and Revenue Churn.
Certain stages in the life cycle for SaaS offerings require a different focus on optimizing each metric; understanding this will help you achieve success with your business model. 
There is a natural progression in phasing and interplay between these metrics-when managed successfully; this can create a "virtuous cycle" that powers positive cash flow. This model has been researched where future growth is funded organically because of the "Goldilocks amount" of stress seen here.
Conclusion
The SaaS business model is a modern one that works well in current technology. It is also easily scalable, which can be done on any budget. However, there are strong and weak points like every other business model. 
For this type of organization to be successful, they will need to understand their customers, expectations, and what they need from their service! In reality, however, unlike most businesses doing things won't cut it either- you have to keep your customer engaged too, with new features constantly rolling out for them.