Before dividing into the Spotify Business Model, let's learn more about Spotify. Spotify is a music streaming service that offers users access to an extensive catalog of songs and artists. It uses a freemium revenue model, which gives limited ad-supported free service for those who only want to listen and an unlimited premium subscription fee for those who prefer not interruptions.
Spotify's music algorithms and its community of users play a large role in maintaining the premium experience. Spotify's premium subscriber base has grown over the years.
From the start, Spotify was a legal alternative to pirated music and paid song purchases on iTunes. It pays significant portions of its revenue in the form of royalties to labels. Since its launch in 2006, it has already paid over $10 billion in royalties.
The company shifted its focus from downloads to streaming and disrupted Apple iTunes. Spotify made a profit for the first time in company history in 2019.
Spotify's mission
The mission of Spotify is to unlock the potential of human creativity—by providing individuals with the opportunity to share their art and make money, and billions of fans the opportunity to enjoy the same and be inspired by it.
Spotify has transformed music listening forever since it was launched in Sweden in 2008. Their features include discovering new music, managing and sharing over 70m tracks for free, or upgrading to Spotify Premium to access exclusive features, including offline mode, improved sound quality, and an ad-free music listening experience.
Spotify is currently the most popular global audio streaming service having 365m users, comprising 165m subscribers spread across 178 markets.
Key Partners in the Spotify Business model
Key Partners refer to the external companies, individuals, or suppliers that provide assistance in carrying out the key activities. The partnership primarily helps to reduce risks and acquire additional resources.
Record labels
Rights holders
Independent artists
Internet services products
Third-party integrations
Cloud providers
Mergers and Acquisitions
Key Activities in the Spotify Business model
What are the primary activities of Spotify?
The key activities focus on achieving value proposition, customer segments, maintaining customer relationships, and revenue generation.
Website Maintaining
Development of the app on various platforms.
Working on the roadmap for the product.
Management of the huge library of songs and podcasts they possess.
Marketing their product and what they offer.
Expansion of their user base.
Negotiations for new contracts.
Content mergers and acquisitions.
Key Resources in the Spotify Business model
What has turned Spotify into a hit?
Key resources are the main inputs required to carry out the key activities to create the value proposition.
Over 1600 employees.
Brand awareness has been created.
Innovative updates and techniques.
Progressive culture of the company.
Huge variety of music collections.
The various number of contracts they have.
Features offered to their users.
100 million monthly active users.
50 million paid subscriptions.
Open Music Model it adopts.
Protection of rights.
Customized content is provided to its users.
Value Propositions in the Spotify Business model
How is Spotify unique?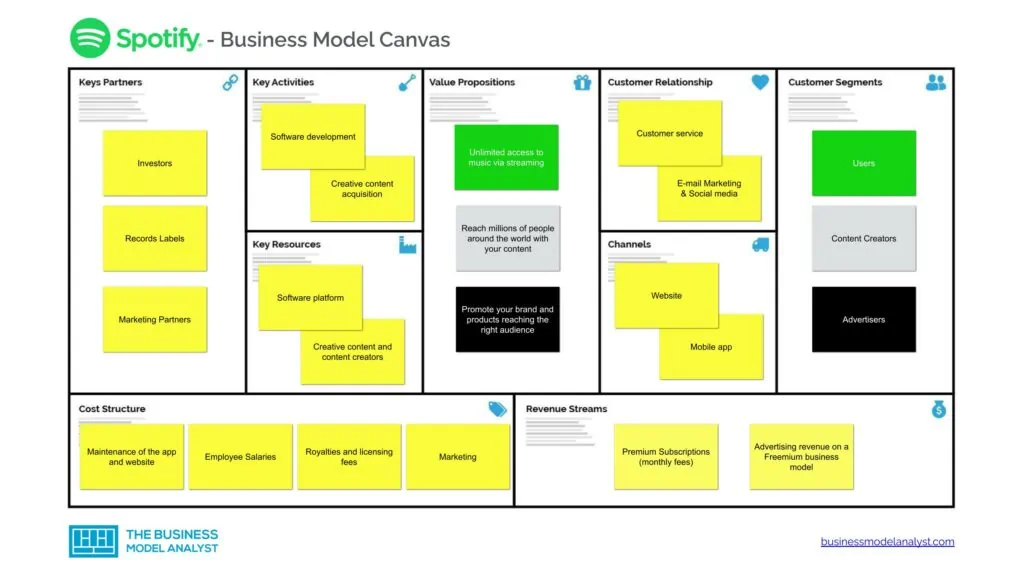 This is the building block of any business, representing your uniqueness or problem-solving capability for one or multiple customer segments.
Free music; anywhere anytime.
A vast majority of songs.
User experience.
Freedom to create Playlists
Playlists and selected choices of liked music
Several forms of advertisements.
Customer Relationships in the Spotify Business model
How does Spotify maintain relationships with its users?
Establishing a good relationship with the different customer segments is vital in any business. It will help maintain the reputation and acquire new customers by word of mouth.
Streaming is always online and available 24×7.
Special customized Spotify playlists to your liking.
User-friendliness and automation of the app.
The HD sound quality of the music.
Third-party APIs.
Spotify community.
The Spotify fanbase
Channels in the Spotify Business model
How does Spotify connect with its users?
Channels help in reaching a wider audience and raising brand awareness via communication. Channels are like the nerves of a business.
The website: Spotify.com
App: Available on web and mobile
Social media platforms
Available on the majority of the operating systems.
Can be linked from one system to the another
Can be linked to external equipment like speakers, smartwatches, and tabs.
Can be accessed on TV as well.
Spotify Family enables an entire family to use Spotify under one payment.
The continuously growing community of Spotify.
Notifications of events you might like around you.
Billboards around major cities in the world.
Customer Segments in the Spotify Business model
What are the different types of customers Spotify targets?
Customer segments help a business understand its important customers and the preferences of the customers of a particular section and then work on the same to improve customer satisfaction.
People are not willing to pay for services
People want to avoid the hassle of downloading music from different websites
Music Lovers of all kinds.
People are studying or working.
Advertisers (Since the attention the site gets is huge.)
Developers want to showcase themselves.
People are interested in showcasing their playlists.
Cost Structures in the Spotify Business model
What type of costs are incurred by Spotify?
Focusing on the cost structure helps a business to understand the various costs for evaluating the same to deliver the value proposition, maintain customer relationships, and earn more revenue.
Office buildings
Technical and Financial team
Marketing and Advertising team
IT operations
Salaries of other staff
Licensing fees
Copyrights
Product roadmap
Legal
Revenue Stream in the Spotify Business model
How does Spotify make money?
Revenue streams are the various channels that generate revenue for a business. It helps in understanding if the value proposition is helping you to earn money or not.
Spotify uses a freemium business model
Revenue is earned through paid subscriptions of users wanting to upgrade to a premium version.
Advertisers who pay Spotify for hosting their ads.
Promotion of TV shows or movies.
Conclusion
Spotify is leading the future of the music streaming industry. Recent announcements have suggested that it might be going public and listing its shares on the New York Stock Exchange.
But Spotify fails to make much profit from its operations. This is due to having to pay for licensing when it negotiates with record labels, which limits its growth.
However, Spotify is the leading music streaming service. It has a lead of 30 million users over Apple Music, which only has 30 million paying customers. The company's other competitors are not even close to it in regards to total subscribers.